Savory Bacon Potatoes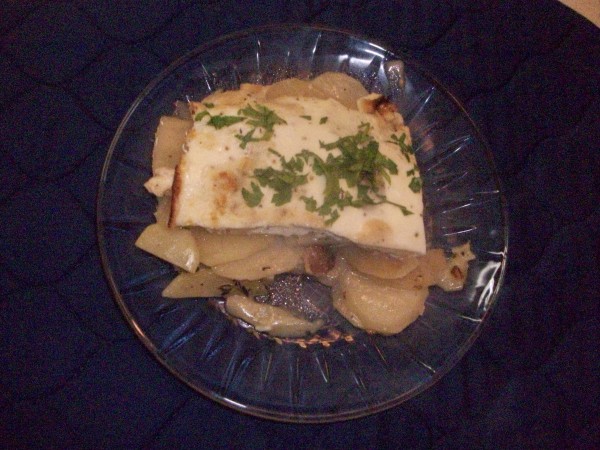 Perfect side dish for family and guests. The custard topping adds a unique twist for the potatoes.
Ingredients
2 c. cottage cheese
½ c unsalted butter, melted and cooled slightly
1 tsp. coarse salt, divided
½ tsp. fresh ground black pepper, divided
4 strips Applewood smoked bacon, chopped
2 cloves garlic, chopped
1 large shallot, chopped
1 tsp. fresh thyme, chopped
6 medium Yukon Gold potatoes, peeled and sliced 1/8" thick (cover with water to prevent browning)
2 large eggs
1 c plain yogurt
2 tbs. Italian parsley, chopped
Instructions
Preheat oven to 375 degrees. Spray an 11x13 baking dish with cooking spray. Place cottage cheese in a food processor and blend until smooth. Add butter, ¾ tsp salt and ¼ tsp. black pepper and blend to combine. Set aside. In a 10" skillet on medium heat, cook bacon for 4 minutes then add garlic and shallot and continue cooking until bacon crisp. Stir in thyme. Remove mixture with a slotted spoon and place in a small bowl. Spread 1/3 of the potatoes in the prepared baking dish and top with ½ of the bacon mixture and 1/3 of the cottage cheese mixture. Repeat this and end with the last 1/3 of the potatoes and the last 1/3 of the cottage cheese mixture. Cover tightly with foil and bake 1 hr to 1 hr and 15 minutes or until potatoes are tender. In a medium mixing bowl whisk together the eggs, yogurt and remaining salt and pepper. Uncover the potatoes and pour the yogurt mixture over the potatoes. Bake about 20 minutes or until custard is set. Garnish with parsley.