Savory Baklava with Prosciutto & Gruyere
Posted in:
Breakfasts and Brunches
,
Holidays
,
Appetizers
Tagged:
Dijon
,
Maille Mustard
,
HolidayRecipeContest
,
Mustard
,
pistachios
,
Prosciutto
,
puff pastry
,
Holiday
,
gruyere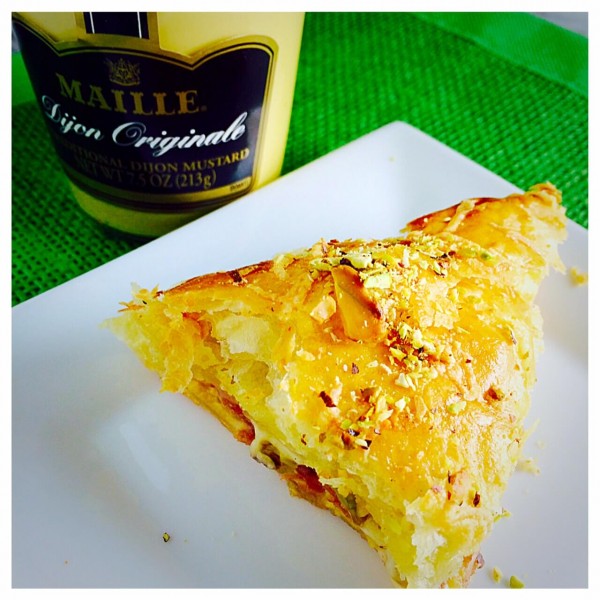 This recipe is a play on baklava and uses puff pastry which is much easier to handle than phyllo dough. The prosciutto, gruyere and Maille mustard make this savory baklava twist a great holiday brunch item or a great appetizer for a holiday party, especially paired with a glass of white wine.
Ingredients
1 package of puff pastry (2 sheets), thawed
1/3 cup of chopped pistachios, 1 tbs set aside for topping
2 Tablespoons of Maille traditional Dijon mustard
4 oounces of thinly sliced prosciutto (around 10-12 slices)
5 ounces of shredded gruyere cheese, 2 Tablespoons set aside for topping
1 egg beaten + 1 Tablespoon of water mixed for egg wash
Instructions
Heat Oven to 450 degrees.
In a bowl, mix together the pistachios with the gruyere cheese until blended (leaving toppings set aside).
On a parchment sheet lined baking pan, carefully place one sheet of puff pastry on the pan.
Brush mustard onto the puff pastry, leaving ½" border around.
Carefully lay the prosciutto on top of the mustard, overlapping.
Spread cheese and nut mixture on top of prosciutto.
With a brush, brush egg wash along the exposed puff pastry border (this is like the "glue" that will hold everything together).
Lay the second piece of puff pastry directly on top of the first.
Gently press down on the border edges so nothing leaks out during baking.
Brush the top and sides of the puff pastry with the egg wash (you won't use all of it)
Cut 3 slits on top of the pastry (cut down until you get to the filling, but not all the way through). This will help the pastry vent and let steam out.
Refrigerate for another 15 minutes before baking (this hardens the butter to make the pastry super flaky).
Place in the center of the oven and bake for 10 minutes.
After 10 minutes, turn the pan 180 degrees. Cook for another 8 minutes.
Remove from the oven and sprinkle on remaining cheese and pistachios "toppings" and cook for another 5-7 minutes.
Total cook time should be 20-25 minutes until the pastry is completely puffed and golden brown.
Wait 5 minutes for it to cool and cut into diamonds and serve.
Notes
The recipe is versatile as well, and the cheese and meat can be swapped out for ham and swiss, salami and provolone, etc. The prosciutto and gruyere combination is my favorite.