Seven Pepper Chili Chili Bang Bang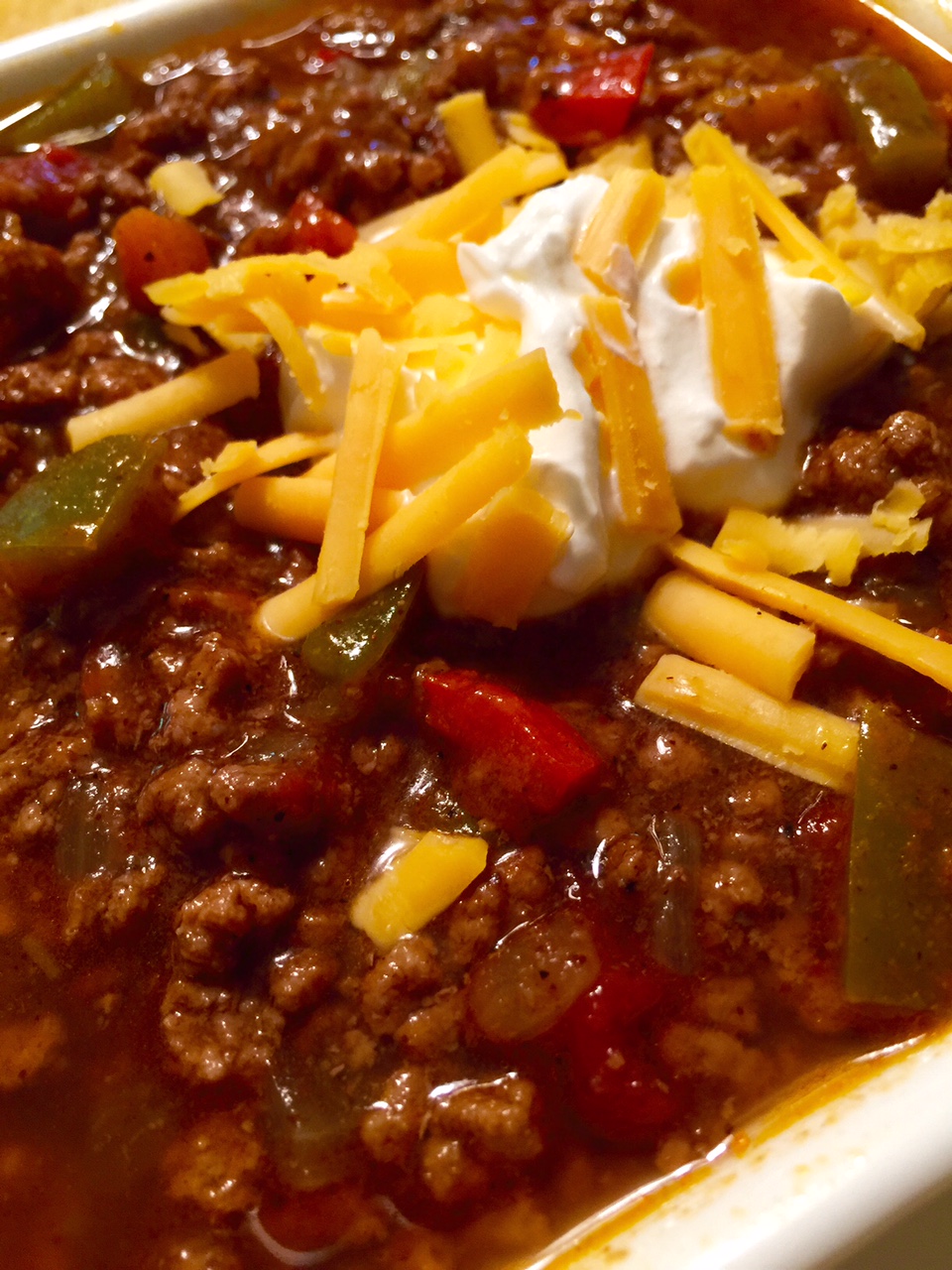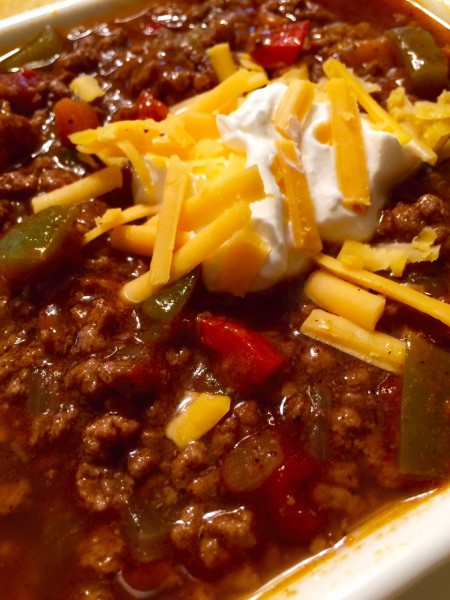 My grandpa made incredible chili and it was a staple at deer camp every year! He would make gallons of it and freeze it about a month before deer season. Two super secret weapons for the chili: 1) he raised his own cattle; and 2) using the peppers that my grandmother would grow in her garden. We were a farm to table family way before it was cool! My version of this chili pays homage to those wonderful, happy memories! The keys to my version are grinding the meat from grass fed beef and infusing the wonderful flavor of bacon!
Ingredients
6 slices bacon
2 pounds ground round roast
2 pounds ground chuck roast
2 pounds venison (substitute pork sausage if preferred)
1 cup diced hatch chili peppers
1 cup diced green bell pepper
1 cup diced orange bell pepper
1 cup diced yellow bell pepper
1 cup diced jalapeno pepper, seeds removed
1 small can chipotle peppers, with adobo sauce
1 habanero pepper, finely diced with seeds removed
2 medium onions, chopped
5 garlic cloves, minced
2 tablespoons paprika
1 bottle apple cider beer
2 tablespoons oregano
4 tablespoons cumin
6 tablespoons chili powder
1 tablespoon sugar
1 can whole San Marzano tomatoes, with sauce
4 cups beef stock
3 tablespoons masa flour
1 tablespoon black pepper
2 tablespoons salt
Sour Cream (optional garnish)
Cheddar Cheese (optional garnish)
Instructions
In a large skillet, brown the bacon. Remove the bacon and retain the drippings. Add 2 tablespoons of drippings to a medium skillet.
Add all meats and brown in the large skillet.
Chop, mince, prep all veggies. Add the onions to the medium skillet with drippings and saute for 4 to 5 minutes. Add the garlic and saute another 2 minutes. Set aside.
Heat the apple beer in a small saucepan to boil and remove from heat. Steep oregano in beer for 5 minutes. Set aside.
Add the browned meat to a large Dutch oven. Add everything else including the browned bacon.
Bring to a boil and then lower heat to simmer for 2 hours on low.
Prior to serving, mix the masa flour with a few tablespoons of water and stir. Add to the chili and continue to simmer for another hour. Add salt and pepper to taste.
Serve chili piping hot! I love adding a dollop of sour cream and grated cheddar cheese.