Southern-Style Mint Sweet Tea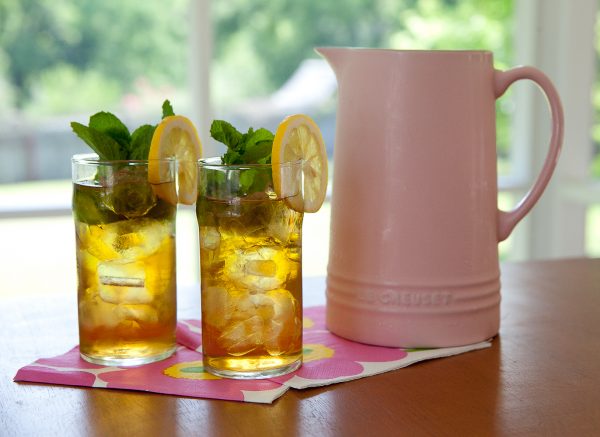 Serve this Southern-style mint sweet tea at a summertime garden party!
Sweet tea becomes a centerpiece of your table setting when served out of a beautiful Le Creuset stoneware pitcher. I love how the density of the stoneware keeps the tea ice cold between pours.
Ingredients
12 cups water
6 tea bags*
1 cup fresh peppermint leaves
3/4 cup granulated sugar
2 cups water
Instructions
Bring the 12 cups of water just barely to a boil in a large saucepan or Dutch oven. Remove from heat and add tea bags. Let stand until cool; remove tea bags.
While tea is cooling prepare mint syrup: Place the mint, sugar, and 2 cups water in a small saucepan. Heat to boiling, then reduce heat and simmer for 10 minutes. Cool completely.
Strain the sugar syrup into the cooled tea; refrigerate until cold. Pour cold tea into tall glasses with ice. Garnish with lemon slices and mint sprigs, if desired.
Notes
*Use tea that is not flavored; I just use plain Lipton tea bags.