Spicy Confetti Veggie Spread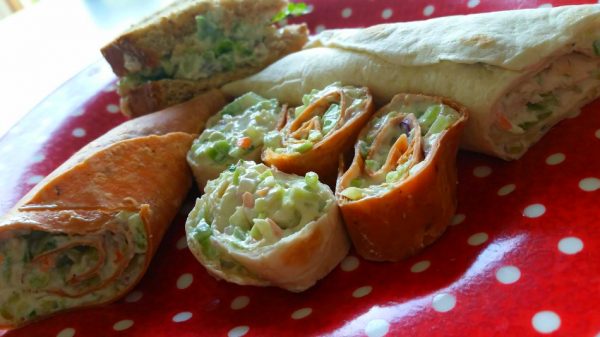 This is a fresh, healthy and easy spread to make to use for sandwich filling on whole grain, seedy wheat bread, used as a filling for spinach or tomato wraps or a filling in flour tortillas or wraps and then sliced for little appetizer spirals. We are a low carb family, and the cream cheese, veggies and low carb wraps, tortillas and bread make for easy lunches, snacks and appetizers. We've even been known to stuff some filling into a lettuce leaf for a really healthy meal. So versatile, and most of all-EASY! Use your food processor pulse feature to finely chop all the veggies, or be old fashioned like me and hand chop with a good, sharp chopping knife-relieves stress, kind of like yoga!
Ingredients
½ bag (6 ounces) Mann's Broccoli Cole Slaw, finely chopped
1 large stalk celery, finely chopped
¼ medium red onion, finely chopped
¼ cup kale, finely chopped
1/2 medium green bell pepper, finely chopped
8 ounces tub Zesty California Jalapeno cream cheese (substitute with 8 ounces regular softened cream cheese mixed with 2 Tablespoons drained and finely chopped pickled jalapenos)
½ teaspoon seasoned salt
4 green lettuce leaves, washed and dried for sandwiches
4 flour tortillas or wraps, or 8 slices nutty, seeded wheat bread
Instructions
You can either chop all veggies by hand or pulse all together in a food processor to make fine pieces, about 1/8-inch in size. Place veggies and seasoned salt in a large bowl and mix with cream cheese, using the back of a serving spoon to incorporate cream cheese.
To make sandwiches, spread filling on 4 slices of bread, spreading to edges and top each with a lettuce leaf. Top with 4 slices of bread. Cut in half. Makes 4 sandwiches
To make wraps, spread filling to within ½-inch of the edge of 4 large wraps or large flour tortillas. Roll and tuck in both edges. Makes 4 wraps
To make appetizers or snacks, make wraps and cover in plastic wrap or foil. Chill for 1-3 hours and slice into 1-inch slices, discarding edges. Makes about 36-40
Notes
An easy, crunchy and creamy filling for sandwiches, wraps or appetizer spirals. You'll love the fresh taste and nutritious value in this all-veggie filling. If you'd like, add some finely chopped turkey, chicken or ham too. This is a very versatile spread.