Spinach and Artichoke Baked Eggs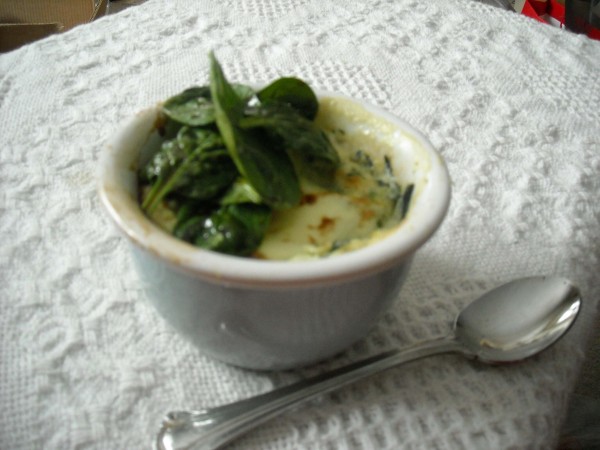 This recipe for "Spinach and Artichoke Baked Eggs" is sure to be a hit with guests visiting for weekend brunch!
Ingredients
1-1/2 cup frozen spinach artichoke dip, thawed
1 tablespoon Bonne Maman Red currant Jelly
4 teaspoons grated Parmesan cheese
4 eggs
1/2 teaspoon salt
1/4 teaspoon pepper
1/2 cup baby spinach leaves
1 teaspoon balsamic vinegar
Instructions
Preheat oven to 350 degrees. Spray 4 twelve-ounce ramekins with non-stick cooking spray. Divide artichoke dip evenly between the, making a slight depression in the center. Place equal amounts or jelly into each depression, then break an egg into each. Sprinkle with salt and pepper, then with the Parmesan cheese.
Place ramekins in oven, and bake until the egg white is set but the yolk is still runny, about 16 minutes. Remove from oven.
Dress spinach leaves with balsamic vinegar, and arrange a few leaves on top of each ramekin. Serve immediately.
Notes
Baking time may be adjusted for individual taste in egg doneness. Also, a few red currents may be added to the spinach leaves if they are available.