Spring Greens Sweet & Savory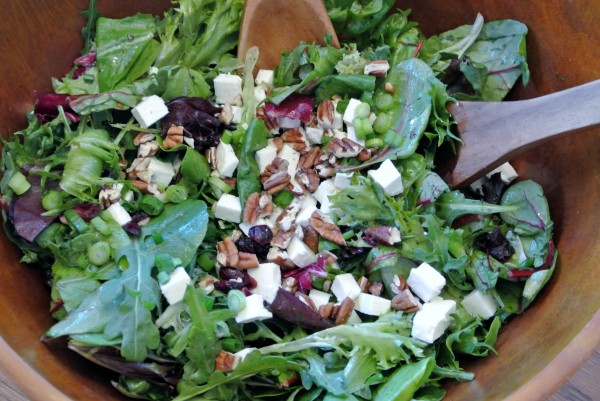 This salad has a nice balance of spring greens and arugula tossed with a red wine vinegar and olive oil dressing spruced up with basil, garlic, chili sauce and a few other goodies. Topped with my personal favorites, feta, toasted pecans, dried cranberries and scallions you'll have a satisfying salad to use as an entree.
Ingredients
6 ounces red wine vinegar
8 ounces extra virgin olive oil
1 Tablespoon dried basil
1/2 teaspoon salt
1/2 teaspoon cracked black pepper
1 teaspoon crushed garlic
2 Tablespoons chili sauce
1 Tablespoon granulated sugar
12 cups spring greens mix
4 cups arugula
4 scallions, chopped
1/3 cup dried cranberries
1/2 cup coarsely chopped toasted pecans
4 ounces feta, cubed about 1/2 inch
Instructions
Prepare the dressing. Whisk and thoroughly combine dressing ingredients.
Toss the salad mix together, including the scallions with 1/2 of the salad dressing. Add more dressing according to your personal taste (I use almost all of it).
Place the tossed salad in your serving bowl and top with the feta, dried cranberries and pecans. Serve with a nice baguette for a hearty and delicious entree!
Notes
- Place the toppings on the salad when just about to serve. This will keep them from winding up in the bottom of the bowl.