Strawberry and Cream Gluten Free Breakfast Cookies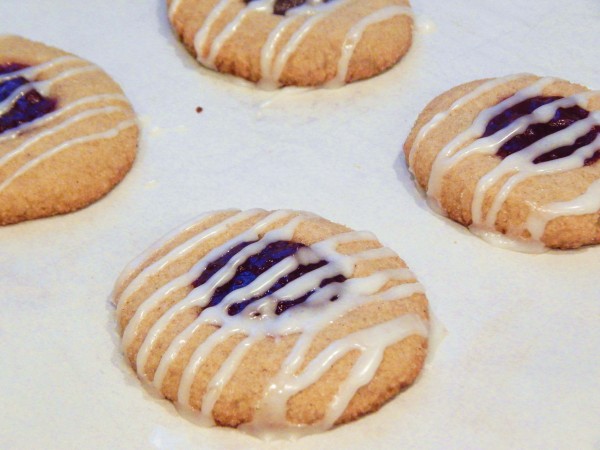 A cookie or a delicious breakfast treat? You decide! A light lemon flavored cookie pairs perfectly with the delicious strawberry preserves from Bonne Maman.
Ingredients
2 sticks (1 cup) salted butter, softened at room temperature
1/3 cup honey
1/2 cup granulated sugar, divided
1 teaspoon lemon extract
1 teaspoon fresh lemon zest
1 egg, room temperature
2-1/2 cup sweet white sorghum flour
1/4 teaspoon baking powder
1/4 teaspoon sea salt
1/2 cup Bon Mamam Stawberry Preserves
4 oz. cream cheese
2 tablespoons unsalted butter, softened at room temperature
1 teaspoon lemon extract
Instructions
Preheat the oven to 350 degrees. Line a stainless steel baking sheet with parchment paper.
In the bowl of a stand mixer fitted with a paddle attachment, cream the butter until fluffy. Add in the honey, 1/4 cup sugar, and lemon extract and mix until well combined. Add in the egg and stir until smooth.
Sift the sorghum flour, baking powder, and salt together. Gradually mix the wet and dry ingredients together until well combined, about 1 minute.
Place the remaining 1/4 cup of sugar into a small bowl.
Place 2 tablespoons of dough in your hand; roll together to form a ball. Roll the dough in the sugar until coated on all sides. Place the dough onto the baking sheet. With a glass or the palm of your hand, flatten the dough into a 2" round. Using a tablespoon sized, round measuring spoon, create an indentation in the center of the dough, Be sure not to press all the way through. Be sure the cookies are 2" apart.
Fill each hole with one teaspoon of Bonne Maman Strawberry Preserves.
Bake for 12-13 minutes. Allow the cookies to sit on the baking tray for five minutes before transferring to a cooking rack. Allow the cookies to cool completely before applying the icing.
Place the cream cheese, butter, and lemon extract into a food processor and pulse until just combined and creamy. The frosting should be smooth. Place the frosting into a piping bag and apply the frosting in a back and forth motion to cover the face of the cookie.