Sushi Tuna Bruschetta with Wasabi Crema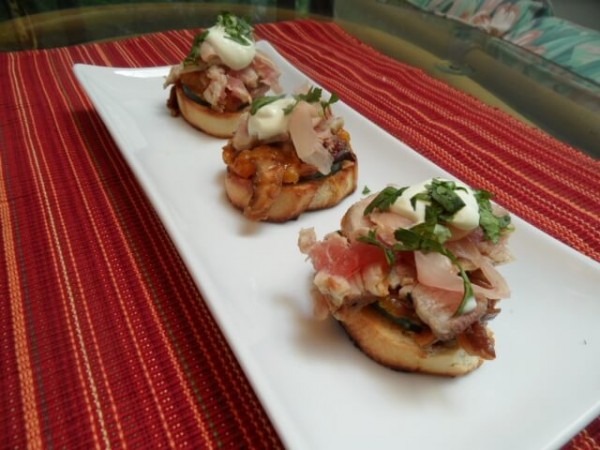 This impressive appetizer is packed with flavor and sure to delight your guests as they await the main event. Using just a few ingredients and easy preparation will allow more time to socialize and enjoy the party.
Ingredients
For the orange shiitake marmalade,
3 ounces stemmed and sliced shiitake mushrooms
1 teaspoon olive oil
1 can Mandarin oranges (11ounces), drained
2-1/2 Tablespoons hoisin sauce
1 teaspoon toasted sesame oil
1/4 cup sour cream
1 teaspoon wasabi paste from tube
8 ounces fresh sushi grade tuna steaks
1 Tablespoon olive oil
12 slices (cut 1/2 inch thick) from a 2-3 inch wide ciabatta loaf
2 Tablespoons olive oil
12 thinly sliced cucumber rounds
1/4 cup pickled ginger slices
1/4 cup chopped cilantro
Instructions
Heat grill to high with lid closed.
Prepare the orange shiitake marmalade. In a small sauté pan, heat 1 teaspoon of olive oil. Sauté mushrooms on medium high heat about 5 minutes or until golden. Remove from heat and let cool. Chop orange segments into smaller pieces. Drain the juice from the chopped orange. Combine the orange with cooled shiitakes, hoisin sauce and sesame oil in a medium bowl. Set aside.
Prepare wasabi crema. Combine sour cream with the wasabi paste in a small bowl. Set aside.
Prepare the tuna. Brush 1 tablespoon of oil onto grill grates and onto both sides of tuna. Grill steaks over direct heat about 2 minutes per side, for a rare center. Turn only once.
Meanwhile, brush oil onto ciabatta slices and grill for about 1 minute per side or until lightly toasted. Remove tuna to a cutting surface and let rest for 2 minutes. Slice across into thin slices.
Assemble the bruschetta. Place cucumber slice onto toasted bread. Spoon on equal portions of marmalade. Place equal portions of tuna slices on each toast, followed by ginger. Top with a small dollop of crema and garnish with cilantro.
Notes
Tuna does not have to be sushi grade, but the deep color adds to the overall appeal.