Warm Apple and Cranberry Shortcakes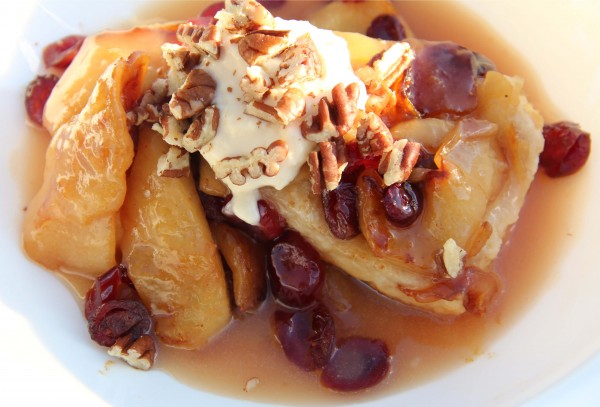 My family really enjoys these super easy biscuits. They especially love them when we make them into shortcakes with some delicious seasonal fruit. We've decided that we like this warm apple and cranberry version the best. It's ultimate comfort food. The soft tender biscuit absorbs the warm buttery sauce. It's sweet, tart, caramelly and creamy and topped with nutty toasted crunchiness. It's truly ultimately DECADENT comfort food.
Ingredients
2 Tablespoons unsalted butter
4 Gala, Granny Smith, or Jonathon apples (6 to 7 ounces each), peeled, cored, cut into wedges or slices
3/4 cup apple cider
1/2 cup dried cranberries
1/2 cup sugar
1/2 cup heavy cream
1/4 teaspoon salt
1/3 cup pecans, toasted and chopped
4-6 Tablespoons Honey flavored Greek yogurt or vanilla ice cream
1-1/2 cups Self-Rising Flour
1/4 cup cornstarch
2 teaspoons sugar
1-1/4 cups heavy cream, enough to make a cohesive dough
Instructions
For the Apples and Cranberries: In a large skillet over medium heat melt butter until it just starts to brown and smells nutty. Add the apples to the skillet. Cook, without moving them, until apples start to brown. Turn or stir the apples. Cook until just tender. Using slotted spoon, transfer apples to bowl. Return skillet to medium heat and add cider and cranberries. Bring to vigorous simmer, stirring to scrape up any browned bits. Cook until sauce has reduced by half. Using slotted spoon, transfer cranberries to bowl with apples. Stir sugar into cider and continue to cook, stirring frequently, until deep golden brown and surface is covered with tiny bubbles. Carefully pour cream into caramel mixture and swirl to incorporate. Return pan to heat and continue to cook until thickened and syrupy. Remove from heat and whisk in salt. Combine the sauce with the apples and cranberries.
For the Biscuits: Whisk together the flour, cornstarch, and sugar. Stir in enough heavy cream to moisten the dough thoroughly. You want to be able to gather the dough together, squeeze it, and have it hang together easily, without dry bits falling off. Turn the dough out onto a lightly floured work surface, and very gently pat it into an 8" circle about 1" thick. Use a sharp 2 ¼" biscuit cutter to cut rounds. Place them on a parchment-lined baking sheet. Place the pan in the freezer for 30 minutes. This will improve the biscuits' texture and rise. Preheat the oven to 425°F while the biscuits are in the freezer. Bake the biscuits for 20 minutes, till they're golden brown. Remove from the oven.
To serve: Break open biscuits. Spoon apples over biscuits. Top with a spoonful of Greek yogurt or ice cream and a sprinkle of chopped pecans.