Warm Brussels Sprouts with Mustard Vinaigrette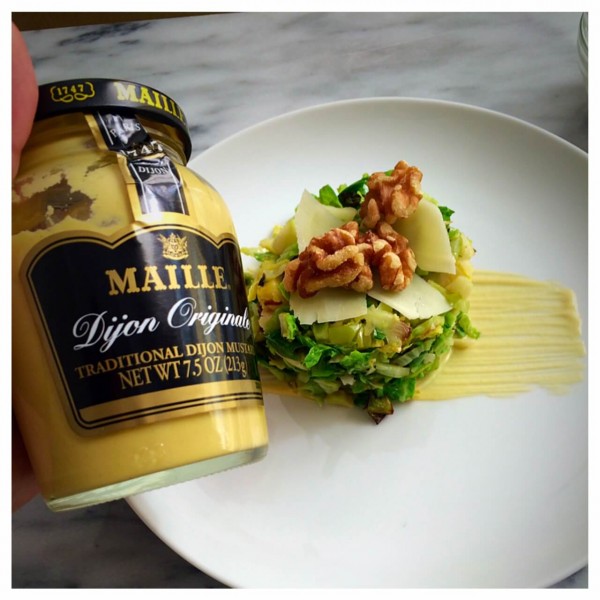 A great side dish for a holiday dinner party. The mustard vinaigrette cuts the bitterness of the Brussels sprouts beautifully.
Ingredients
1/4 cup of olive oil
1 Tablespoon of agave nectar
2 Tablespoons of white balsamic vinegar
1 Tablespoon of Maille traditional Dijon mustard
2 pounds of fresh brussel sprouts, stems removed and chopped
2 Tablespoons of sunflower seed oil (or any high heat oil)
3 ounces of shaved parmesan cheese
3 ounces of toasted chopped walnuts
salt and pepper to taste
Instructions
In bowl, add all of the dressing ingredients and whisk together to combine.
Heat sunflower seed oil in a large wok on high heat.
Add Brussels sprouts to the wok. For 15 seconds do not move the sprouts. Add salt and pepper to taste.
Stir-fry for 4 to 5 minutes until Brussels sprouts are tender and edges are browned and crisp.
Remove Brussels sprouts into a large platter.
Add the vinaigrette to the Brussels sprouts and stir to combine.
Top the Brussels sprouts with Parmesan cheese and walnuts.
Add salt and pepper to taste and serve immediately.
Notes
Stir-frying the sprouts in a wok cut down the amount of cooking time, but still yielded those delicious crispy fried edges.