What Happened Last Night On The Taste? Episode 4
The drama continues on Episode 4 of The Taste on ABC.  Thanks again to Jenn Tidwell for her recap!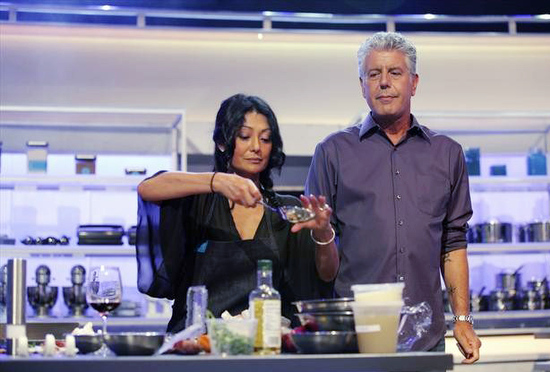 Tonight on episode four of The Taste fourteen contestants remained and two would be sent home. For the team challenge the contestants were tested on daring pairings, creating dishes using at least one of the five secret ingredients to be paired with an Argentine wine, Alamos Malbec. It was up to the mentors which secret ingredients to choose for their teams to work with. Each mentor chose the following secret ingredients…
Nigella's ingredients- calf's liver, harissa, couscous, ground lamb and lamb sausage
Brian's ingredients- figs, almonds, bone marrow, filet mignon and sea salt
Anthony's ingredients- beef steak, chorizo, beef tongue, lamb kidney and lamb chop
Ludo's ingredients- white miso, bonito flakes, charcoal, smoked eel and cassis
The two guest judges were David Kinch, chef and owner of Manresa in California and also a Michelin two star chef and Andre' Mack, sommelier. Once the teams created their tasting spoons they each gave their input on which one spoon would be put forward for judging. The winning spoon would earn immunity for them self and would gain the assistance from the two guest judges in the solo challenge for their team. Each team decided on the following spoons as the chosen ones…
Anthony's team- Uno's Thai Beef Salad spoon 
Ludo's team- Gregg's Bonito Crusted Short Rib
Nigella's team- Erika's Lamb Chop with Fried Goat Cheese Ball
Brian's team- Adam's Squab with Red Wine Reduction
And the winning spoon was from Team Ludo, Gregg's spoon!
For the solo challenge the contestants were given one hour to make a food and wine pairing dish using one of four styles of wine from German Riesling, California Chardonnay, French Cotes du Rhone and Italian Barolo. The contestants made their wine selections and got busy in the kitchen each creating the following…
Adam- Chardonnay- Traditional Seafood Bouillabaisse with Saffron Aioli
Huda- Riesling- Lemon Zabaione with Berries
Shawn- Chardonnay- Vanilla Bean Poached Chilean Sea Bass with Goat Cheese and Pine Nut Ravioli
Ninamarie- Barolo- Pork Shoulder Braised in Cream, Lemon and Sage with Smoked Tomato Jam
Khristianne- Barolo- Braised Duck
Sarah- Chardonnay- Smoked Salmon with Curry Buerre Blanc and Clam Salad
Gregg- Barolo- Deconstructed Pasta Bolognese
Erika- Chardonnay- Orange Miso Glazed Chilean Sea Bass with Sesame Udon Noodles
Paul- Cotes du Rhone- Almond Bacon Rack of Lamb
Diane- Cotes du Rhone- Blood Sausage with Potato Gratin
Lauren- Cotes du Rhone- Steak and Polenta
Uno- Chardonnay- Chicken and Egg
Jeff- Chardonnay- Seared Sole with Sweet Pea Puree
Mia- Chardonnay- Shrimp and Cauliflower
As the mentors tasted and judged the food and wine pairing spoons there was quite a bit of whining going on as well as some ooh's and aah's. The mentors picked their best and worst spoons…
Anthony's best- Ninamarie and worst- Huda
Ludo's best- Khristianne and worst- Sarah
Brian's best- Khristianne and worst- Erika
Nigella's best- Ninamarie and worst- Shawn
This left Ninamarie and Khristianne tied as the winners each earning two stars. The bottom four including Huda, Sarah, Erika and Shawn were in danger of being sent home and in the end the show was over for Erika and Shawn.
Tonight's Blue Ribbon moment was when Huda added mint to her lamb dish taking it from good to the best. Tune in next week on Tuesday at 8pm on ABC to see the twelve contestants continue their journey on possibly becoming the first winner ever of The Taste! 
Happy Cooking,
Jenn