Cinnamon Sugar Pretzel Bites
Happy Friday CCC!   
What a whirlwind week this has been.  There have been so many CCC wins and exciting notifications!
Right now I am in New York City and had the pleasure of sitting down to lunch of the extraordinary Danielle D'Ambrosio.  Not only is she a CCC member, but also an accomplished food blogger!
Below is a post she created in honor of National Pretzel Day.  These "sassy sweet" bites would make a show stopping dessert or even an indulgent weekend breakfast treat!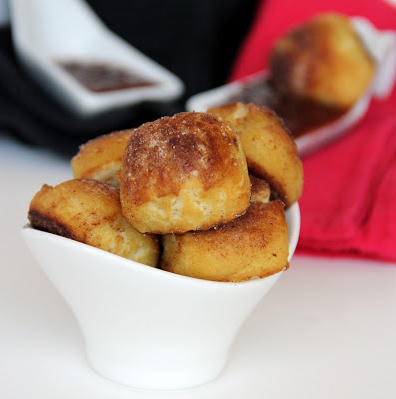 I was thrilled when Kristina decided to highlight CCC bloggers using these "national" holidays because for me blogging and CCC go hand in hand.  In 2010, when I was just 24 years old, a co-worker sent me a link to a cooking contest.  I had previously indulged my passion for cooking by baking and cooking for my small office.  She thought I had what it took to win a video recipe contest!
So I set to work taping myself (because all my friends thought this was a little too crazy).  I didn't win…but I found that I loved dreaming up new recipe ideas, trying them out, and interacting with other cooks.  A few months later, I took the plunge and paid for CCC.  I've never looked back.  By the time I met my boyfriend John later that year, I had become firmly entrenched in the CCC community and enjoying the personal interactions I have had through cooking contests with so many of you!
John encouraged me to follow my passions in a way that no one outside my family had before.  With his help, I started my little blog, The Growing Foodie.  It's my little corner of the Internet and I love sharing it.  In cooking contests, we work for weeks on a recipe that then doesn't make the cut.  The best part about the blog is the immediate reactions you can receive and it feeds my love of cooking contests in a new way!
National Pretzel Day was the perfect place for me to write my "love letter" if you will to CCC.  I chose to make homemade pretzels and roll them in cinnamon-sugar.  I love making them into tots for easy grabbing and a perfect group dessert!  Then, I made a quick strawberry-rhubarb compote for a sweet and tart "dip".  Happy Friday, and Happy National Pretzel Day – I hope you all enjoy!
http://www.thegrowingfoodie.com/2013/04/sassy-sweets-cinnamon-sugar-pretzel.html