Country Crock CCC Exclusive Recipe Contest!
"Lighten-Up" for the Holidays Recipe Contest
with
Country Crock and Cooking Contest Central!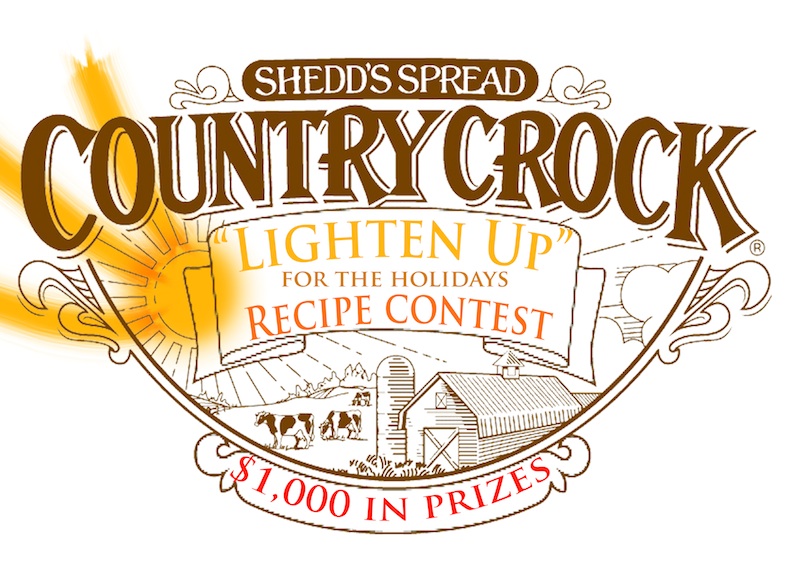 CCC has teamed up with Country Crock for an exclusive recipe contest just for our members!  From now through Friday, January 11th we are looking for ways that you lighten up during the holidays.  Maybe you make your green bean casserole with Country Crock Light or whip up a batch of cookies with Country Crock Cinnamon?  This time of year it is so easy to over-indulge.  Country Crock wants to see how you can "lighten up" your favorite holiday recipes, while still enjoying your family traditions around the dinner table.
Prize Details:
1st – $500 American Express Gift Card
2nd – $300 American Express Gift Card
3rd – $200 American Express Gift Card
4th – Honorable mention, Country Crock coupons
5th – Honorable mention, Country Crock coupons
In addition, all winning recipes will be photographed and featured here on the CCC blog!
Deadline:  January 11, 2013
Sponsor:  Country Crock and Cooking Contest Central
Contest Rules:  All entries must utilize at least one Country Crock product. Recipes can be appetizers, main dishes, side dishes, or desserts. Eligibility: Only members of Cooking Contest Central may enter this exclusive contest. Judging: Recipes will be judged on taste (50%), creativity (30%), and use of sponsor product (20%), by a third party food and recipe expert.
How to Enter:   Email your name, email address, phone number, and recipe entry by January 11th to: MemberContest@CookingContestCentral.com
Notification:  Winners will be notified on or before January 31, 2013.
Winner's List:  Winning recipes will be published on the Cooking Contest Central Blog – https://cookingcontestcentral.com/blog/
Notes:  Looking for inspiration? Check out all the great recipes on CountryCrock.com. Be sure to "like" their Facebook page, follow @CountryCrock on Twitter check out the Country Crock Pinterest page!
If you have any questions, leave a comment below or email Kristina@CookingContestCentral.com
If you haven't renewed your annual membership or want to join Cooking Contest Central, click here.  In addition to all the benefits of membership, you can now also enter exclusive members-only contests like this one!