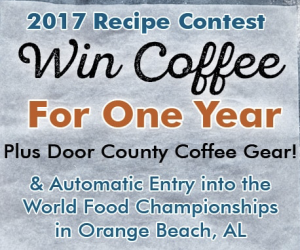 Door County Coffee 4th Annual Recipe Contest!
At Door County Coffee, we just LOVE hanging out in the kitchen and making awesome, tasty, recipes! Now we want to see your best coffee recipes for a chance to WIN! Desserts or dinner, sweet or savory…we can't wait to taste them all!
There will be six winners, with one 1st Place Winner receiving the Grand Prize.
Enter your recipe by May 31, 2017 for a chance to WIN! https://www.doorcountycoffee.com/pages/recipe-contest/