Flavors of Summer Recipe Contest Entry Tips
Have you heard?  Some cool companies want you to enter your best recipes.  This contest has NO VOTING!  (In other words, there's no need to promote your recipe or hustle likes shamelessly among your friends and followers!)  These companies offer an array of FRESH SEASONAL INGREDIENTS and GREAT PRIZES.  What more could you ask for?
Now is the time to learn more about the "Flavors of Summer" recipe contest and enter all of your best seasonal recipes or entertaining ideas today!
Hurry, deadline is August 15th.  You can even print out online coupons to save money while testing recipes.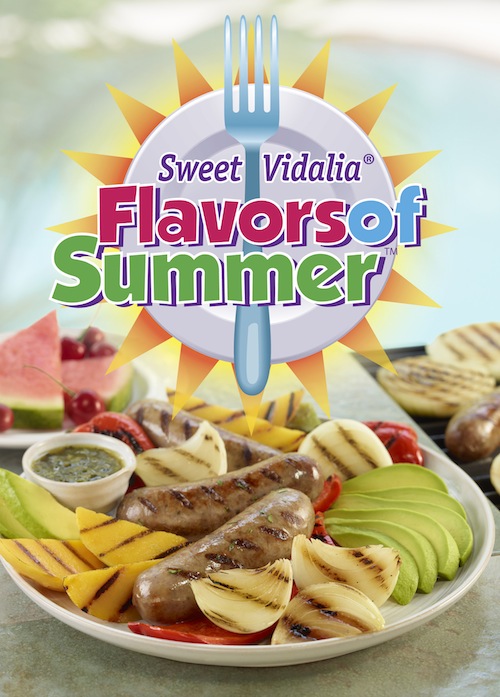 The Inside Scoop:
-For this contest you can enter as many times as you like!  There are four different categories.  Three for recipes and one for a ideas on outdoor decorating and entertaining.  Why not get those creative juices flowing and try your hand a both a recipe entry (or two or three) and a decor idea?
-Photos of recipes are not required, but are highly encouraged.  One of the judging categories is "appearance" and submitting a photo with your entry is your chance to show off your delicious dish and rack up some points.  If you don't show the judges what your recipe is supposed to look like on the plate, they will just have to guess!
-The contest is open to amateurs only, but food bloggers are welcome to enter.  Just no food professionals please.
-Speaking of food bloggers, you are allowed to enter recipes that have been published on your blog.  You just can't enter anything that has been published in a cookbook or magazine.
-Don't forget to show off the sponsors!  You must use one or more sponsor products in your entry.  The key word being more!  If you can find a creative and delicious way to incorporate as many as you can, I'm sure your entry will capture their attention!
Vidalia® Onions (Vidalia Onion Committee), Johnsonville® Mild Italian Sausage Links, Gourmet Garden Herbs and Spices, Fresh Mangos (National Mango Board), Avocados from Mexico, Watermelon (National Watermelon Promotion Board), Stemilt Cherries.

Notes:
Let me take a moment to clarify one part of the entry form.  You will see that there are two fields to enter recipe/decor idea.  One is a text field for the recipe or decorating idea.  The other is a place where you can attach a word or PDF file.  You can submit your entry in either place.  You can cut and paste it into the text box or upload a document under "choose file."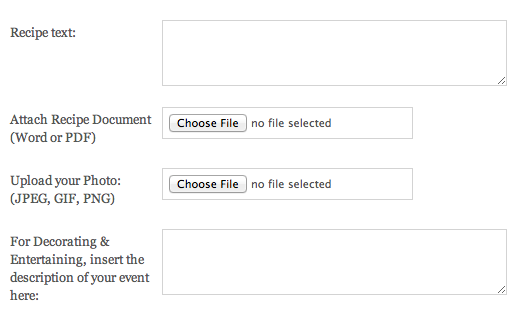 Tips for photos:
Are you new to taking food photos?  No problem!  Nowadays you can snap mouth-watering images with your smartphone.
Take a look at the images below.  Both feature the same recipe, but which one is more appetizing?
I wrote a blog post for Better Recipes outlining a few simple photography and food styling tips for beginners.  Take a look!  http://www.betterrecipes.com/blogs/daily-dish/2012/10/04/spiked-guacamole-and-a-photography-tutorial/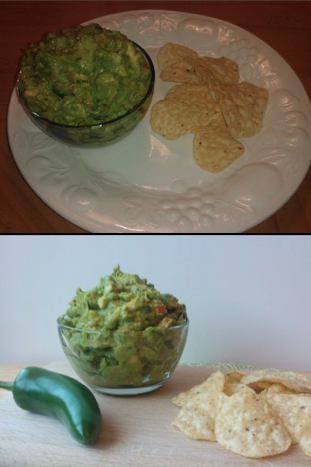 Categories and Prizes:
The contest offers four categories to enter:  "Grilling Favorites," "Salads, Sides and Desserts," "Marinades, Sauces and Salsas," and "Outdoor Decorating and Entertaining."  The winner for each contest category will receive a $1,000 cash prize.  The top category entries will then compete to win the grand prize, a $5,000 Sears gift card to create you own outdoor entertaining oasis!
Here are a few recipes from the "Flavors of Summer" website for inspiration.
1)  Grilling Favorites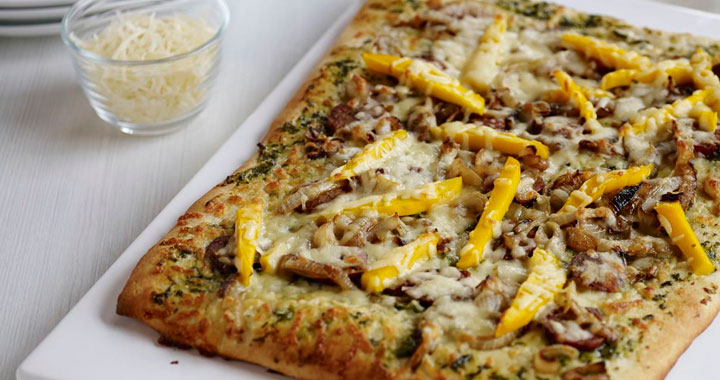 Herbed Pizza with Grilled Vidalia Onions, Sausage and Mango
Author:
Recipe provided by Gourmet Garden
Recipe type:
Grilling Favorites
Ingredients
2 Johnsonville® Mild Italian Sausages, grilled, sliced
2 Whole Vidalia® onions, sliced 1 in. thick
1 tablespoon Gourmet Garden Oregano
1 tablespoon Gourmet Garden Parsley
1 tablespoon Gourmet Garden Garlic
1 pkg(s). (13.8 oz.) refrigerated pizza dough
1 Whole fresh mango, peeled, sliced
8 ounce(s) shredded mozzarella cheese (substitute Monterey Jack if desired)
Instructions
Preheat grill to medium heat. Grill sausage and onion slices. Cool.
Slice sausage into ½ in. pieces, chop onions; set aside.
Combine oregano, parsley and garlic.
Roll pizza dough on baking sheet. Spread evenly with herb mixture. Top with sausage, onions, mango and cheese.
Bake pizza according to package directions or until cheese is melted and crust is cooked through.
Serve immediately.
2)  Salads, Sides and Desserts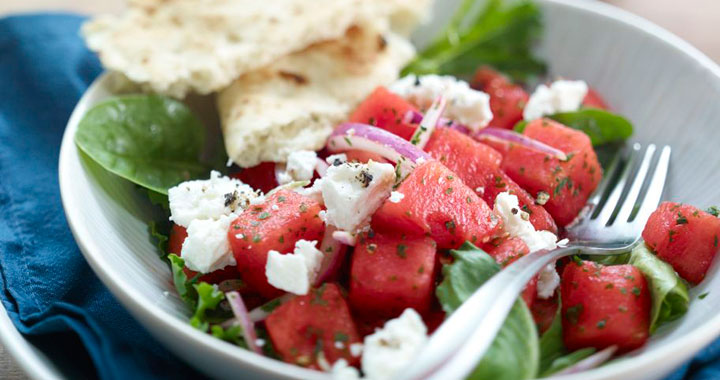 Mediterranean Watermelon Salad
Author:
Recipe provided by the National Watermelon Promotion Board
Recipe type:
Salads, Sides & Desserts
Ingredients
6 cups mixed salad greens, torn
3 cups watermelon, seeded, cubed
½ Vidalia® onion, sliced
1 tablespoon extra virgin olive oil
⅓ cup feta cheese, crumbled
cracked black pepper, to taste
Instructions
Mix all ingredients except oil and pepper in large bowl.
Just before serving, toss salad mixture with oil.
Garnish with freshly ground black pepper.
3)  Marinades, Sauces and Salsas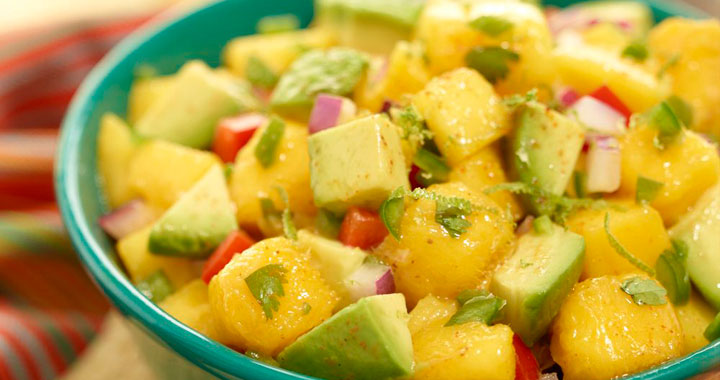 Mango and Avocado Salsa
Author:
Recipe provided by the National Mango Board
Recipe type:
Marinades, Sauces and Salsas
Ingredients
2 Whole ripe fresh mangos, peeled, pitted, diced
2 Whole ripe Avocados from Mexico, peeled, pitted, diced
2 tablespoon(s) Serrano pepper, seeded, minced
¼ cup(s) red onion, diced
¼ cup(s) red pepper, diced
2 tablespoon(s) Gourmet Garden Cilantro, chopped
1 Whole lime, zested, juiced
1 teaspoon(s) chili powder
1 tablespoon(s) extra virgin olive oil
Instructions
Combine all ingredients.
Allow to sit at room temperature for 10 minutes prior to serving.
4)  Outdoor Decorating and Entertaining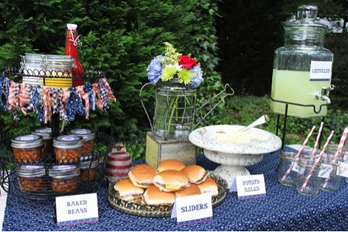 Every get-together is just a little more fun with a few special touches. Wow your guests with party themes and and decorating ideas for every occasion. You'll find decorative ideas for the traditional summer holidays and for those fun in the sun outdoor parties. Check out our tips for family events such as family reunions and more.