Broccoli Cole Slaw, Chicken, and Black Beans Quesadillas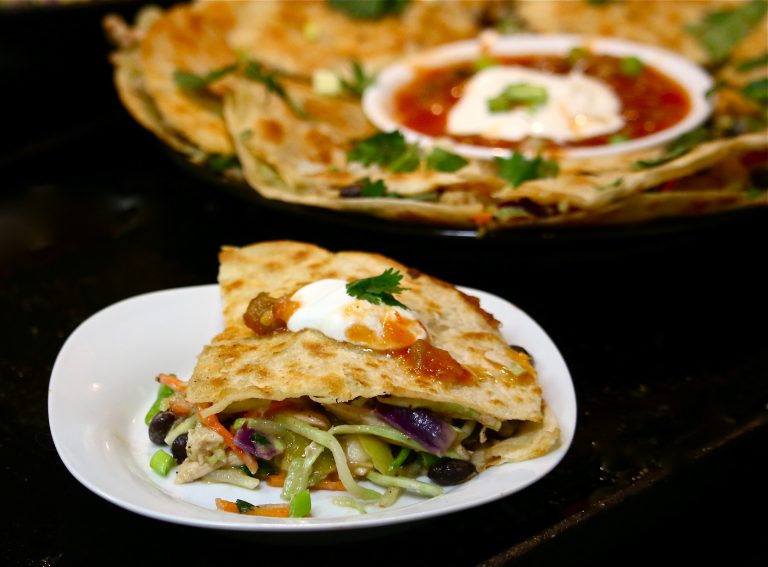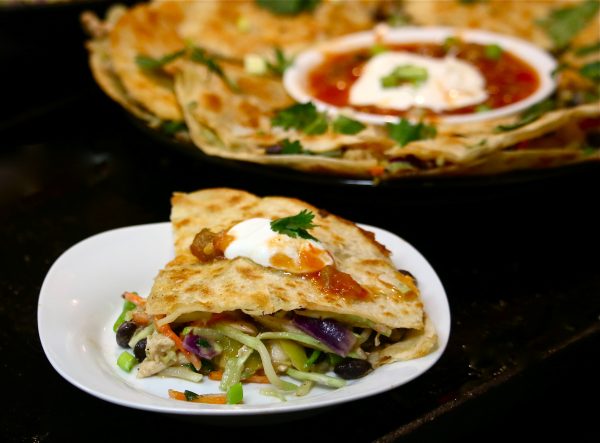 SEASON your quesadillas with sautéed Mann's Broccoli Cole Slaw and you just might get this review, "Gosh Mom, everything you make with broccoli cole slaw turns out great." True story! I love how the broccoli cole slaw adds texture, flavor, and depth to a chicken and black bean quesadilla! Enjoy!
Ingredients
2 cups Mann's Broccoli Cole Slaw®
1 teaspoon granulated garlic
1 1/2 tablespoon olive oil or cooking oil of choice, divided
1 1/2 cup shredded cooked chicken, rotisserie
1 (15 oz) canned black beans, rinse, drain
3/4 cup jalapeno cheese sauce
1 cup shredded cheddar cheese
1/4 cup chopped green onions
2 tablespoons chopped cilantro
8 (6 to 8-inch) flour tortillas
Serve with: sour cream, picante sauce, chopped cilantro, and green onions
Instructions
Sauté the broccoli cole slaw and granulated garlic in 1 tablespoon oil, over medium heat, for 1 minute. Add chicken, black beans, cheese sauce, onions, and granulated garlic, and cook until heated through, about 3-4 minutes. Remove pan from heat and stir in cilantro. Salt to taste.
Heat 1 tablespoon oil, over medium heat, on a griddle. Depending on the size of the cooking area, arrange one or two tortillas. Spread about 1/2 cup broccoli slaw mixture over tortilla and top with 1/4 cup cheese. Grill quesadilla until toasty brown on both sides, about 4 minutes. Repeat until all quesadillas are grilled.
Top with sour cream, fresh chopped cilantro, green onions, and picante sauce.
Notes
Variation: I used homemade jalapeno cheese sauce made from milk, butter, flour, fresh jalapenos, and sharp cheese. If you don't have prepared cheese sauce (homemade or store-bought) you could add 1/2 cup cheddar cheese and 1/4 cup sour cream to the broccoli cole slaw and chicken mixture.

Leftover grilled chicken would be great in this dish!