What Happened Last Night On Chopped? Chopped Champions – Season 4 Episode 3
Time for another one of our super-popular TV recaps!  This time we have a new contributor here at the CCC blog, Laureen Pittman!  You can think of her as our official Chopped Chick… Sit back, grab a glass of wine,  and read all about  what happened on the show last night.  Cheers!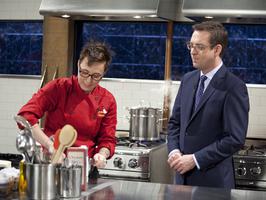 Cable and network television have their fair share of entertaining cooking competition "reality" shows, but for me, it's always nice to come back to one of the classics: Food Network's "Chopped." Chopped has it all: a celebrity host (Ted Allen); celebrity chef judges; interesting (and sometimes obscure) mystery ingredients; a series of timed cook-off-style competitions; and a sweet cash prize for the winner.
Chopped is now in Season 14. Season 14 is a "Chopped Champions" series. They're calling it Season 4, since it's the fourth installment of a Chopped Champion series. Are you following so far? Last night was actually the third episode in this series. So, they've already got 2 winners in this series to compete in the finale for $50,000. They're looking for 2 more. Competing last night for the third spot in the finale were four chefs that have previously won a "regular" episode of Chopped in a prior season. Still with me? Good.
I love watching Chopped because it really is about the creativity and the food. The hour-long show is actually like 3 little competitions rolled into one show, because the competitors have to make an appetizer, an entrée and a dessert using mystery ingredients that are revealed at the beginning of each course. After each course, one of the chefs is "chopped" (i.e., eliminated). In the end, one chef is left standing, usually winning $10,000. But for the Chopped Champions series, the winning chef in each episode doesn't win any money. The winner secures a spot in the Chopped Champions finale for a chance to compete for $50,000. Big bucks.
The first course mystery basket included smoked eel, cream cheese spread, quince paste and haricots vert. I'm always amazed at the off-the-wall ingredients that show up in the mystery basket. If there isn't a weird or unusual ingredient in the mix, the combination of the mystery ingredients provided is always a challenge. Basically, all of the chefs prepared some form salad, except for one chef that took put a spin on bagels and lox by making a smoked eel crostini. Apparently, the uniqueness of his dish didn't work, because he was chopped after the first round.
Ever heard of an "anti-griddle?" I had never heard of one until last night. It's a griddle that does the opposite of cooking—it freezes food pretty much instantly and can get as cold as 30 degrees below zero. I'm having a hard time trying to figure out how I would use an anti-griddle in the practical sense. One of the chefs tonight used the anti-griddle to try to make a quick-frozen thingy out of the cream cheese spread. It didn't work too well for him. But I'm looking forward to seeing the anti-griddle more often on Chopped and other Food Network shows.
For the entrée round, the mystery basket included frog legs, Yuzu marmalade, gin and firm tofu. Okay, seriously . . . . this mystery basket did not get my creative juices flowing. Yuck. I don't think the chefs were feeling it, either. But never fear, the drama came when one of the chefs dropped nearly all of his frog legs on the floor. He was left with only 2 pairs of frog legs that he had to prepare and stretch to create 4 full entrees for the judges. Fat chance, right? A single frog leg an entrée does not make. Well, Chef Single-Frog-Leg actually knocked it out of the park flavor-wise and made it through to the final round! I was happy. Mostly because he had a gorgeous British accent and he said something like, "How many jobs offer you the opportunity to create something new every single day?" Swoon.
The dessert round had the 2 remaining chefs playing with canned jackfruit, araucana eggs, coconut macaroons and chocolate covered pretzels. The canned jackfruit was described by one of the chefs as smelling like rotting mangoes. Yummy. And to be honest, I had no idea what an araucana egg was. Turns out an araucana is just a breed of chicken. They lay blue eggs, have feather tufts near their ears, and no tail (I bet you already knew that, Candy Coffman McMenamin!).
In the dessert round, Chef Frog-Legs took the easy route and used all of the ingredients in one dish—a claflouti. The other chef went out of the box and made a semifreddo out of the egg yolks and a cracker/tuile out of the whites. She had a problem with the semifreddo setting (she should have used the anti-griddle!), but her finished dish looked great! The claflouti looked like a mess, but it must have tasted delicious, because Chef Frog-Legs won! His name is actually Chef Jun Tanaka and he's the Executive Chef at Pearl Restaurant in London, England (hence, the gorgeous British accent).
The only thing I don't like about "Chopped" is that it usually only showcases professional chefs. It would be great to see a series or season just for amateurs—or better yet, how about an episode or two for amateur competitive cooks?
Tune in next week to see who will be the fourth chef to compete in the Chopped Champions Finale!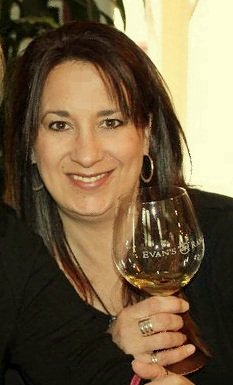 Thanks so much Laureen!  Can't wait to hear your thoughts next week.  What do you think…should we start a CCC petition to get a "contester" episode of Chopped?  Maybe we can find the producer or casting director and put a bug in their ear!