Salted Caramel Pineapple Tart – Country Crock 3rd Place Winner
Here we are, the halfway point of revealing all 5 winning recipes in the CCC/Country Crock recipe contest!  Today we take a sweeter turn with this winning dish from Janice Elder.  Her "Almond-Crusted Salted Caramel Pineapple Tart" earned the $200 3rd place prize!
This tart may look positively sinful, but by strategically swapping a few ingredients, Janice has offered us a treat without the guilt!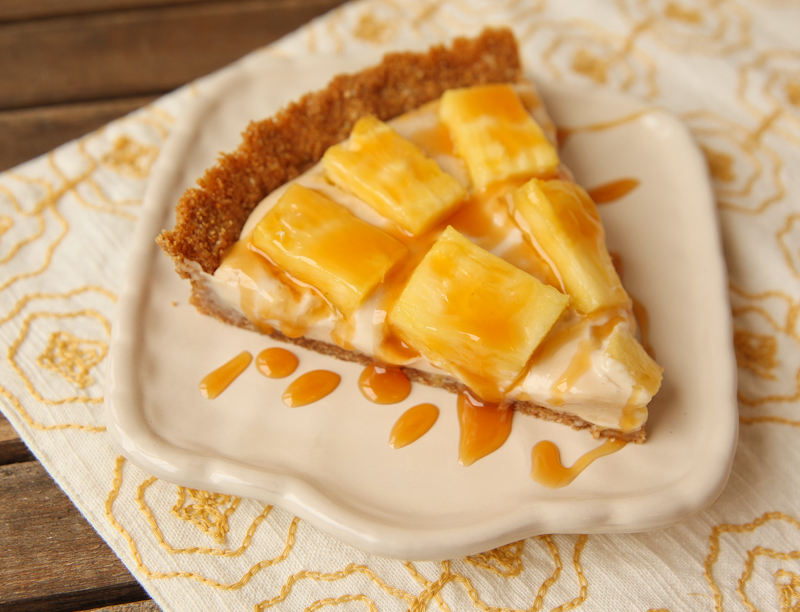 Janice says, "Several years ago, long before salted caramels were popular, a friend gifted me with a small box, and it was love at first taste.  However, they are far too indulgent for frequent consumption, so I devised this recipe to incorporate the same delicious flavors, punching up the nutrition with fresh, healthy pineapple and almonds, and reducing the fat and calories wherever possible.  Using Country Crock provided terrific buttery flavor in the crust and using reduced fat cream cheese and nonfat caramel topping helped nutritionally — with no sacrifice in flavor."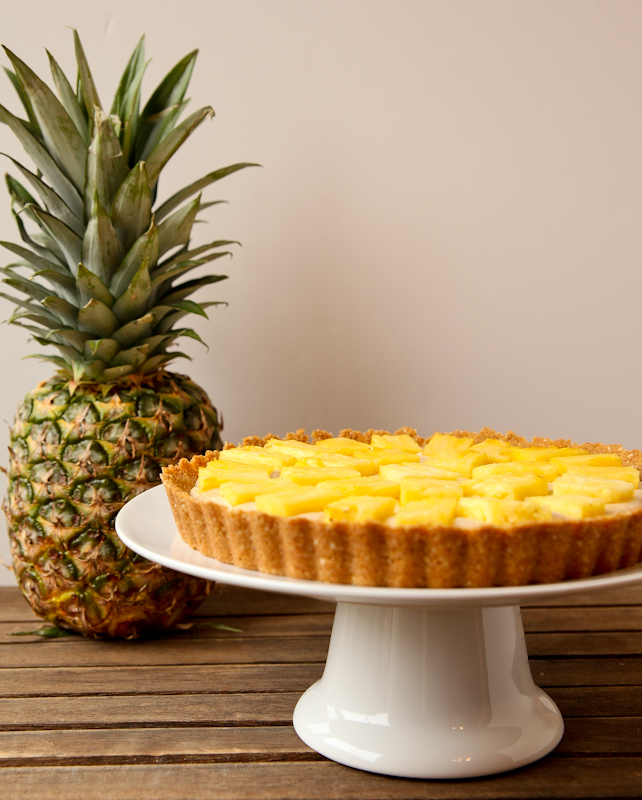 Almond-Crusted Salted Caramel Pineapple Tart
Ingredients
8 sheets (one sleeve) reduced-fat honey graham crackers
¼ cup slivered almonds
2 tablespoons granulated sugar
¼ cup Country Crock Original Spread
¼ teaspoon almond extract
1 8-oz. package reduced fat cream cheese (not non-fat), softened
½ cup light brown sugar, firmly packed
½ teaspoon vanilla extract
¼ teaspoon salt
4 cups chopped fresh pineapple, well drained
2 to 3 tablespoons caramel ice cream topping, preferably non-fat
Fleur de sel (or other flaky sea salt)
Instructions
Preheat oven to 350 degrees. Place graham crackers in a food processor; process until crumbs. Add almonds, pulsing just until finely chopped. Add granulated sugar, Country Crock and almond extract, pulsing just until moistened. Spray a 9-inch tart pan with a removable bottom with nonstick coating. Add crumb mixture. Press evenly and firmly over the bottom and up the sides of the pan. Bake at 350 degrees for 8-10 minutes, or until lightly browned. Remove from oven and cool on a wire rack.
Beat cream cheese, brown sugar, vanilla and salt until well blended and smooth. Spread evenly over the bottom of the cooled tart shell.
Arrange pineapple attractively over filling. Drizzle lightly with caramel topping (if topping is too thick to drizzle lightly and easily, heat for a few seconds in the microwave). Chill several hours. At serving time, top each serving with a few flakes of fleur de sel. Yield: 9 servings.
As you can see the competition was fierce in this members-only contest.  Janice pointed out, "I hope there are more CCC-exclusive contests to follow.  It's quite a challenge since those competing know what they are doing!"
Be sure to check out the other prize winners:
4th Place Honorable Mention – Roasted Crusted Halibut with Spicy Braised Grapes
5th Place Honorable Mention – Cranberry Chutney Appetizer Tarts