How to Win Online Voting Contests
With the next round of Pillsbury Bake-Off voting around the corner, CCC member Kim Van Dunk offered to share some of her tips for success with online voting.  Her tips can help anyone get votes without compromising their integrity or sanity!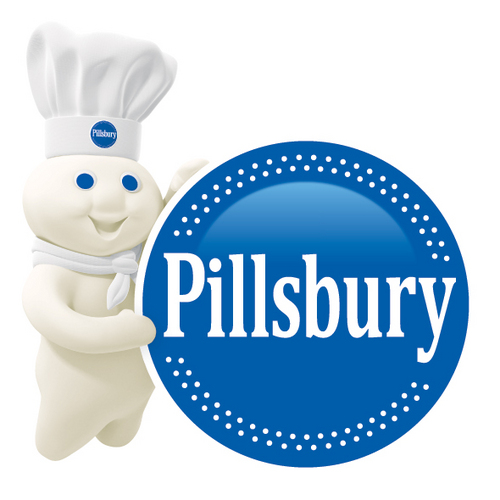 My Pillsbury Semi-Finalist Experience by Kim Van Dunk
If you're anything like me, the thought of voting contests makes my shoulders slump, my upper lip sneer, and my insides groan.  I have decided to stay clear of the majority of contests with voting formats, preferring to win or lose on the merits of my food.
I was eagerly awaiting the call for recipes for the 46th Pillsbury Bakeoff.  Like many of you, the new format worried me.  I am social-media challenged and figured that there would little chance for me to advance under the new rules.  I've always wanted to experience all of the excitement that the Bakeoff has to offer.  It would truly be an honor and a once-in-a lifetime experience to be part of such an event.  I finally decided that I would enter one recipe, in one category, and, should I make the first cut, make one attempt to advance.
Amazingly, my recipe did make the first cut.  Quickly my attention turned to the marketing of my recipe.  As I mentioned before, I am not plugged into the world of social media.  Here is my pre-Pillsbury status: no Twitter account, no Pinterest account, two friends on Facebook, no blog, and not a YouTube user.  To boot, I live in a small town sized a tad over one square mile, with a population of under 8,000 people.  I do not work outside of the home either.  Putting all of that aside, I got to work!
Pillsbury was very clear about how you could and could not garner votes.  They supplied helpful ideas and avenues to which one could get their recipe out there for the masses to see.  Here is a list of some of the small-town, relatively low-tech strategies I used to market my recipe:
Make a flyer.:  This was the very first thing that I did.  I included a picture of my recipe, the recipe itself, a little blurb about who I was, the link to the voting page, and the dates of the voting period.  This little flyer would prove to be very helpful.  I highly recommend doing this.
Email: I did not want to harass my friends or relatives, but I knew that I would need their help in order to advance.  I sent out one email at the beginning of the voting period and then another two days before the voting ended.  I provided all of the necessary links.  I asked people to forward the email, post it on their social media accounts, and spread the word to their friends.  I also included an attachment with my flyer.
Facebook:  I knew that using Facebook would be something that I could do from the comfort of my own home.  It is a way to reach many people with your message.  I posted on the CCC page, on both of the Pillsbury pages (there's one for refrigerated dough and one for other baking products), on the Green Giant page (they are a sponsor and I used their product), and on the pages of various supermarkets (even posting on pages for grocery chains across the country…not just my area).  I then sought out pages where other foodies would visit:  Taste of Home, Better Homes and Gardens, Good Housekeeping, The Chew, and The Food Network.   Thinking that my recipe may appeal to children, I posted on the Family Fun, Family Circle, and Woman's Day pages.  I finally posted on a few local restaurant sites.  I posted on each page 2-3 times over the two week voting period.
Visit your local grocery store:  I went to my local grocery store and spoke to the manager.  I told him what I was doing, being sure to point out that his store would receive some publicity should I move on to the finals.  He allowed me to post my recipe in the store (again using the flyers) and he also allowed me to hand out information in the store, directly to the customers.
Local media: Our town, like many others, has a small on-line website dedicated to local stories.  I contacted the editor who was more than happy to come over and interview me.  This lady was awesome!  She posted three articles over the two week period.  This website is part of a whole system of local sites.  To my surprise my entire county had picked up on the story.  I also sent a media release (provided by Pillsbury) to local newspapers and even to the newspaper of my hometown where I grew up.  They all ran stories.
Good old, hometown support:  I realized that living in a small town could actually be a good thing.  Who doesn't want someone from their community to bring recognition to their tiny town?  I literally went door to door with my flyers.  I spoke at a local Women's Club meeting.  I approached a few local restaurants, who in turn posted my recipe.   Finally, I had friends spread the word in some of the local schools.  You'd be surprised at the enthusiasm that came from my local Caldwell residents.
I hope this helps some of you and encourages others.  There are many other avenues that one can use to market their recipe.  I know there are some who produced great YouTube videos and were even on-air demonstrating their recipes (I tip my hat to you!).  My recipe did make it through to the finals.  I do know, however, that there are those, some our CCC friends, whose recipes did not make it through despite their hard-work and great recipes.
I am thankful to be a finalist in the Bakeoff and still am in amazement that someone like me, who is not "popular" or socially plugged-in, could advance.  I do not regret the work involved in moving forward.  The possibility of having a chance at a million dollars was motivation enough for me to toss my hat into the ring.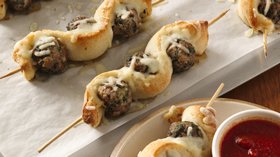 Meatball and Breadstick Sub Skewers – Kim Van Dunk
Disclaimer:
The content and opinions shared in this post were based solely on my own experience. The article was not reviewed, endorsed or approved by the Pillsbury Bake-Off Contest.