BBQ Chicken Salad Slaw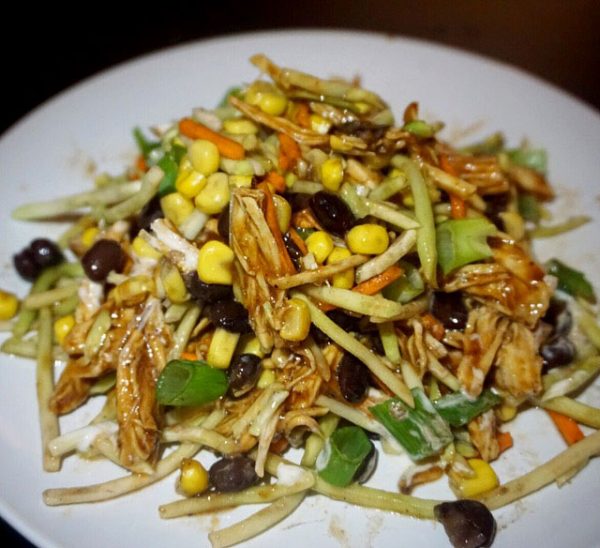 This is a super easy and delicious cole slaw salad to whip up for a week full of lunches! If you don't have time to boil the chicken, you can easily buy rotisserie chicken at the grocery store and shred it up!
Just toss with Mann's Broccoli Cole Slaw, and it becomes a fun play on a classic BBQ chicken salad!
Ingredients
1 bag Mann's Broccoli Cole Slaw (12 ounces)
1 can of corn kernels (15.5 ounces)
1 can of black beans (15.5 ounces)
1 pound chicken breasts, boneless
1/2 cup BBQ Sauce
1/4 cup scallions (green onions), chopped
Ranch dressing, drizzled to taste
Instructions
Fill a large pot 3/4 of the way with water, and heat to a boil.
Add the chicken breasts to the boiling water, and boil for about 40 minutes, until the chicken can easily be shredded.
Remove the chicken from the boiling water, and with 2 forks, pull apart the chicken so that it is shredded.
Toss the shredded chicken with BBQ sauce.
In a large bowl, toss Mann's Broccoli Cole Slaw with the corn, black beans, shredded BBQ chicken, and scallions.
Top with a drizzle of ranch dressing.
Enjoy right away, or let the flavors meld together in the fridge overnight!