Italian Caprese Salad with Lemon-Pine Nut Farro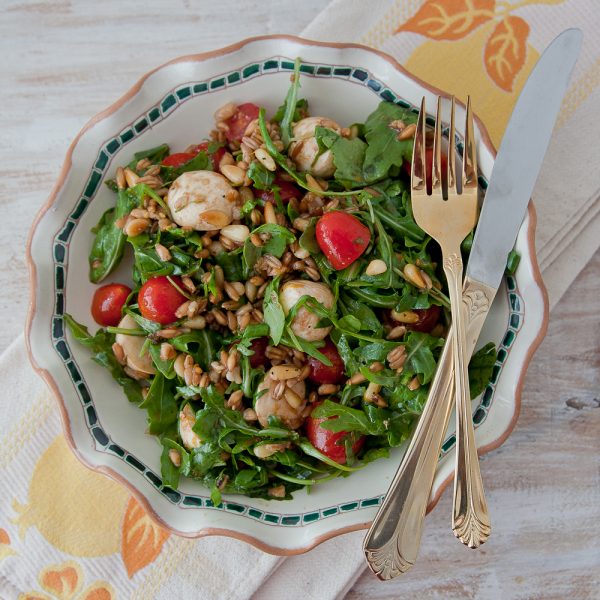 This recipe takes everything you love about the classic Italian caprese salad and turns it into a meal!  Tomatoes and fresh mozzarella are tossed with arugula in a homemade balsamic vinaigrette. The addition of a bright and zesty lemon-pine nut farro is a twist that brings additional flavor as well as a high fiber boost!
Ingredients
1 cup cooked farro
2 teaspoons fresh lemon zest
1/4 cup toasted pine nuts
1 garlic clove, pressed
1 teaspoon dried basil
1/2 teaspoon salt
1/4 teaspoon black pepper
1/4 cup lemon juice
1/4 cup balsamic vinegar
1/4 cup olive oil
Grape tomatoes, halved
Fresh mozzarella balls, halved
Arugula
Instructions
In a medium bowl, combine cooked and cooled farro, lemon zest and toasted pine nuts. Set aside.
In another medium bowl, combine garlic, basil, salt, pepper, lemon juice and balsamic vinegar. While whisking, stream in olive oil until combined.
In a large bowl, toss tomatoes, mozzarella balls, arugula and prepared lemon-pine nut farro. Toss with desired amount of dressing and serve.