Blackberry-Sage Cocktail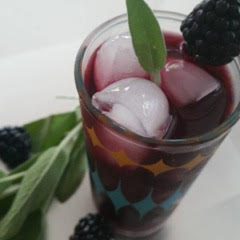 A berry delicious treat! This blackberry sage cocktail mixes blackberry, sage, vanilla flavored vodka and blackberry balsamic vinegar.
Ingredients
3 ounces blackberry juice
1-1/2 ounces premium vanilla flavored vodka
1 teaspoon blackberry balsamic vinegar
2 sage leaves, plus extra for garnish
1 strip lemon peel
2 ounces club soda
fresh blackberries, garnish
Instructions
Place blackberry juice, vodka, vinegar, sage and lemon peel in a cocktail shaker filled half way with ice. Shake to mix well and strain into an ice filled glass. Top with club soda and garnish with fresh blackberries and sage leaves.
Notes
By adding vinegar to cocktails, you get the flavor of a shrub without all the work needed to made a homemade shrub.