Cereal Milk Doughnuts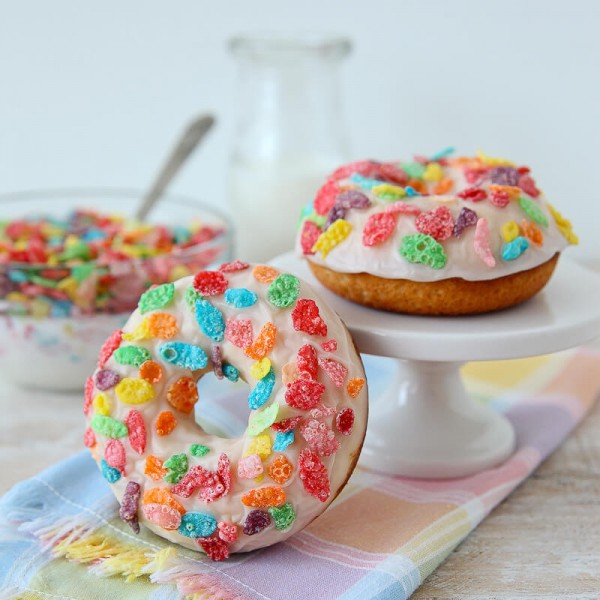 If you think the best part of breakfast is sipping the cereal milk, you will love these cereal milk doughnuts!
Ingredients
1 - 1/2 cups whole milk
3/4 cup Fruity Pebbles cereal
2 cups cake flour
3/4 cup granulated sugar
2 teaspoons baking powder
1 teaspoon salt
2 eggs, lightly beaten
2 Tablespoons butter, melted
1/2 teaspoon vanilla
1 - 1/2 cups confectioners' sugar
3 tablespoons "cereal" milk
1/2 teaspoon vanilla extract
1/2 cup Fruity Pebbles
Instructions
For the doughnuts: Combine milk and Fruity Pebbles in a cereal bowl. Allow to sit for 30 minutes. Strain out milk, measuring 3/4 cup for the doughnuts and reserving the rest for the glaze. (Discard cereal.) Preheat oven to 425 degrees F. Spray doughnut pan with nonstick cooking spray. In a large mixing bowl, sift together cake flour, sugar, baking powder and salt. Add reserved cereal milk, eggs, butter and vanilla. Beat until just combined. Spoon doughnut batter in a gallon-size plastic zip top bag. Cut off a 1/2 inch piece from one corner. Pipe into each doughnut cup. Bake 7-9 minutes or until the top of the doughnuts spring back when touched. Let cool in pan 4-5 minutes before removing.
For the glaze: In small bowl, stir together sugar, reserved cereal milk and vanilla extract until sugar is completely dissolved. Use immediately to glaze donuts. Sprinkle top with Fruity Pebbles cereal. Serve immediately.