Churro Almonds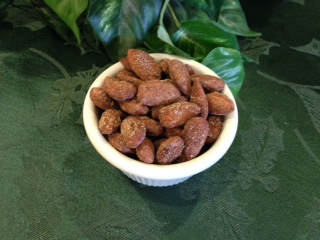 These almonds with a little sugar, cinnamon and a hint of cocoa are so yummy.
Ingredients
3 tablespoons granulated sugar
2 tablespoons ground cinnamon
1 teaspoon unsweetened cocoa powder
1/4 teaspoon salt
1 egg white
1 tablespoon water
3 cups raw almonds
Instructions
Preheat oven to 325 degrees F. Line a large baking sheet with parchment paper and spray lightly with non-stick cooking spray.
In a small bowl combine sugar, cinnamon. cocoa and salt. Set aside
In a large bowl , beat egg white and water.
Stir in the almonds, mix until moistened
Add in the sugar cinnamon mixture. Toss until all almonds are well coated.
Spread out the almonds on baking sheet.
Bake for 20 minutes, stirring once or twice. Let cool and set for 1 hour before serving.
Notes
These almonds can be stored in an airtight container for several days.