Party Prosciutto Potato Bites
Posted in:
Appetizers
,
Holidays
,
Snacks
Tagged:
horseradish
,
Maille Mustard
,
HolidayRecipeContest
,
Mustard
,
Prosciutto
,
puff pastry
,
Holiday
,
Appetizer
,
snacks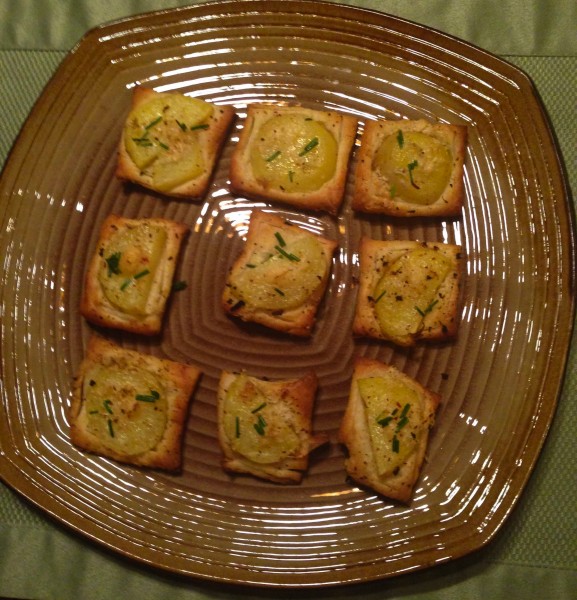 These prosciutto potato bites are an easy appetizer that can be served warm or at room temperature for any holiday party!
Ingredients
6 baby red potatoes, scrubbed
1 ounce sliced prosciutto
1 sheet frozen puff pastry dough, thawed
1-1/2 Tablespoons Maille horseradish mustard
1 teaspoon sour cream
1/3 cup shredded fontina cheese
2 Tablespoons fresh grated Parmesan cheese
1 Tablespoon finely chopped fresh chives
Instructions
Preheat oven to 400.
For the potatoes: Place potatoes in a saucepan; cover with water and add a pinch of salt. Bring to a boil then reduce heat and simmer for 5 minutes or until potatoes are almost tender. Transfer potatoes to colander rinse under cold water until cooled.
Cut into thin crosswise slices.
For the prosciutto: Fry prosciutto over medium-high heat in a nonstick skillet until lightly browned and crisp, about 2 minutes per side. Transfer to paper towels to drain.
Finely crumble prosciutto into a small bowl, set aside.
For puff pastry and to assemble: Unfold puff pastry sheet and on a lightly floured work surface, roll to a 10x9 inch rectangle. Cut into 20 squares(about 2 inches each). Place squares on a large baking sheet lined with parchment paper. Score each square about 1/8 inch from edge. Prick dough with a fork.
In a small bowl mix together mustard and sour cream.
Place 2 potato slices onto each puff pastry square and brush tops with mustard mixture. Sprinkle top with both cheeses, prosciutto and chives.
Bake until golden about 15 minutes.