Cocoa Popcorn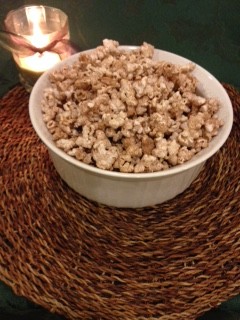 This is a quick and healthy snack. You can make a small batch or double and triple it for a party or game day. Sometimes I even add some dried cranberries.
Ingredients
1/4 cup white popcorn, unpopped
1 teaspoon confections powered sugar
2 teaspoons unsweetened cocoa powder
1 tablespoon granulated sugar
Instructions
Sift confections sugar, cocoa powder and granulated sugar into a small bowl and set aside.
Pop popcorn using no oil or butter.
Transfer the hot popcorn into a large bowl or container that has a lid.
Sprinkle the cocoa mixture over popcorn and cover with lid.
Shake for about 1 minute or until popcorn is evenly coated. Enjoy!