Crispy Fried Pickled Onions with Double Mustard Dip
Posted in:
Appetizers
,
Holidays
Tagged:
onion
,
fried
,
Honey Mustard
,
Maille Mustard
,
HolidayRecipeContest
,
Mustard
,
pickle
,
Holiday
,
Appetizer
,
panko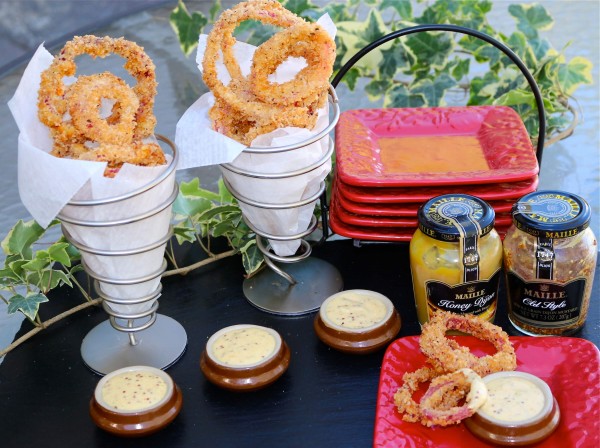 These fried pickled onions are a fun and festive make-ahead appetizer for your holiday guests!
Make the pickled onion one or two days before your party. Then, the morning of the party, bread and fry the onions. Yes, they stay CRISPY all day!
Serve the crispy fried pickled onion rings with a quick & simple dipping sauce that includes Maille Old Style Whole Grain Mustard and Maille Honey Dijon Mustard. The dipping sauce can be made ahead too.
Watch out ~ this dish is addicting!
Ingredients
2 cups red wine vinegar
2 Tablespoons Maille Old Style Whole Grain Dijon Mustard
1/2 cup granulated sugar
1 Tablespoon sea salt plus 1/2 teaspoon sea salt, divided
4 cups thinly sliced red onions, ¼-inch or less wide, 2-3 medium onions
1/2 cup cornstarch
1/2 cup all-purpose flour
3 egg whites, whisk with 2 teaspoons Maille Honey Dijon Mustard
2 cups Italian Seasoned Panko Crumbs
Canola Oil for frying
Double Mustard Dipping Sauce:
3/4 cup mayonnaise
2 Tablespoons Maille Old Style Whole Grain Mustard
3 Tablespoons Maille Honey Dijon Mustard
1/2 teaspoon sea salt
1/4 teaspoon onion powder
1/4 teaspoon granulated garlic powder
Instructions
In a 3 quart saucepan, combine red wine vinegar, mustard, sugar, and 1 Tablespoon salt. Bring liquids to a boil.
Add red onions, cover, and cook on low 10 minutes, stirring at least one time. Remove from heat, and let sit for 5 minutes. Drain. Blot dry with paper towels.
Pat pickled onions dry with paper towel. In a one-gallon plastic bag, mix cornstarch, flour and 1/2 teaspoon salt. In batches, toss pickled onions in flour mixture to coat. Dip floured onions in egg and then panko crumbs.
Pour 1-inch canola oil into a large skillet and heat to 350-375 degrees. In single layer batches, fry onions, 2 minutes on each side, until crispy. Drain on paper towels. Sprinkle lightly with salt, if desired.
To make Double Mustard Dipping Sauce: Combine all dip ingredients in a medium bowl and stir until well mixed.
Serve Double Mustard Dipping Sauce with Crispy Fried Pickled Onions! Oh Yum!