Holiday Ham & Honey Dijon Pinwheels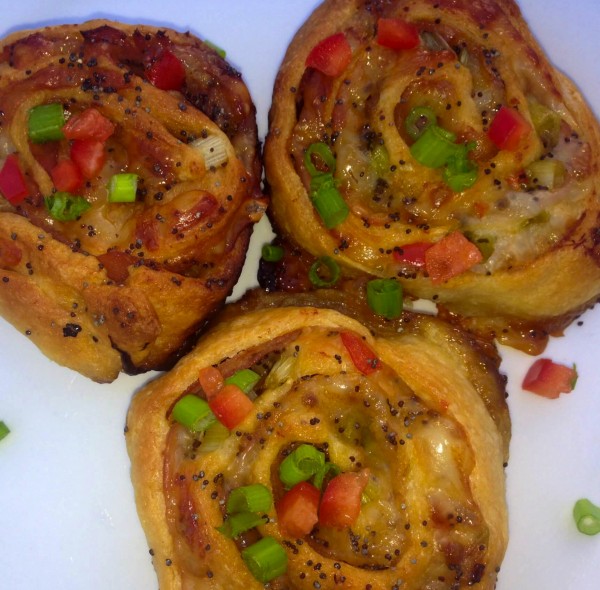 This delicious holiday appetizer will be devoured by your party guests. Cheesy ham & honey Dijon pinwheels are easy, fun to make, and look absolutely as delicious as they taste! How can you go wrong with ham, cheese, and honey Dijon wrapped in a delicious crescent roll?
Ingredients
One can of your favorite crescent rolls
1 pound your favorite ham deli meat, thinly sliced
12 large slices Swiss cheese (or your favorite cheese)
1/2 cup butter
3 Tablespoons brown sugar
2 Tablespoons of Worcestershire sauce
3 Tablespoons Maille Honey Dijon mustard
1 Tablespoon poppy seeds
1/2 cup chopped red pepper
1/2 cup chopped scallions
Instructions
Preheat oven to 350.
Grease a cookie pan and roll out the crescent roll as much as you can.
Spread out the ham evenly followed by the cheese spread evenly.
Sprinkle the red pepper and green onion scallions over the cheese.
Roll up the entire ham and cheese crescent roll like you would cinnamon rolls.
Cut in 12-15 slices at least 1 inch wide. Place in a 13 x 9" baking dish with cooking spray.
In a small pan, combine the glaze ingredients and cook until melted and smooth. Pour glaze evenly over the ham and cheese crescent rolls.
Bake uncovered for 25 minutes or until golden brown. Serve warm.