Fruity Pebbles Banana Belgian Waffles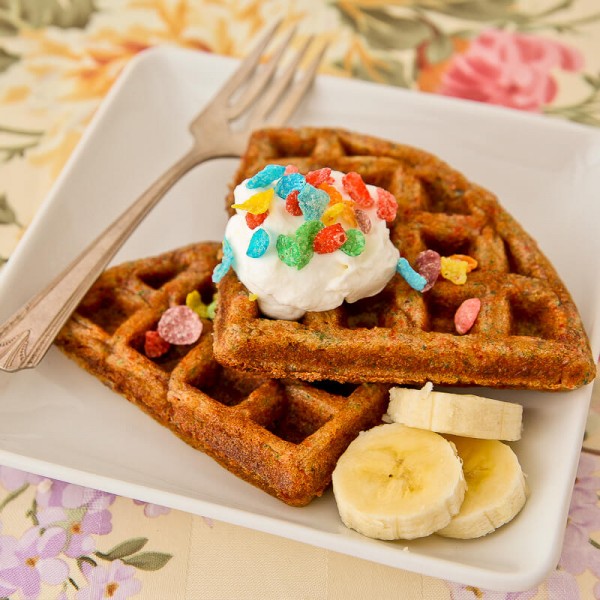 Fruity Pebbles cereal take these Banana Belgian Waffles to a whole new level!
Ingredients
1 cup all-purpose flour
1 cup ground Fruity Pebbles cereal*
1-1/2 Tablespoons baking powder
1/4 teaspoon baking soda
1/4 teaspoon salt
1/2 cup sugar
3 ripe bananas
2 eggs
1 teaspoon vanilla extract
3/4 cup buttermilk
1/4 cup vegetable oil
Vegetable oil for waffle maker
4 ripe bananas, sliced
1 teaspoon lemon juice
1 cup whipping cream
2 Tablespoons sugar
Instructions
For the waffles: Preheat waffle iron. In a large bowl combine flour, ground cereal, baking powder, baking soda, salt and sugar. In a blender or food processor combine bananas, eggs, vanilla, buttermilk and oil. Process until smooth. Gradually stir banana mixture into flour mixture. Beat until smooth. Lightly brush waffle iron grids with oil. Pour enough batter to fill two-thirds of the waffle iron. Cook until crisp and golden-brown, about 5 minutes. Repeat with remaining batter.
For the topping: In a blender or food processor, process banana slices and lemon juice until smooth. In a medium-sized bowl, whip together cream and sugar until soft peaks form. Fold into banana mixture.
Serve waffles with a dollop of the whipped banana topping and a sprinkle of Fruity Pebbles cereal.
Notes
2 cups of Fruity Pebbles cereal yields about 1 cup of ground cereal when pulsed in a food processor.