Grapefruit Margarita with Smoked Serrano Ice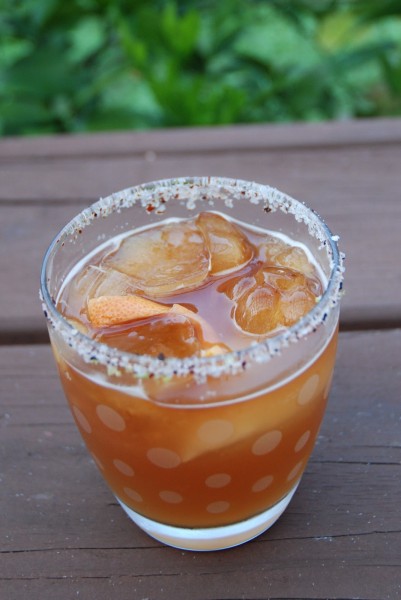 While in Chicago I had a fabulous cocktail with "spicy ice" and it blew my mind! My husband and I enjoyed it so much I played with the concept as soon as I got home. As the ice melts you get more notes of the smoke and spice that really wake up the taste buds! Cheers!
Ingredients
2 cups water
3 smoked serrano peppers
2 Tablespoons margarita salt
1 teaspoon ancho chile powder
1 teaspoon sugar
zest of 1 lime
3 ounces freshly squeezed ruby red grapefruit juice
1 ounce freshly squeezed lime juice
1 ounce agave syrup
1 ounce triple sec
1 ounce silver tequila (I store mine in the freezer so it's always icy cold)
1 handful smoked serrano ice cubes
Instructions
Bring water up to a boil in a medium saucepan. While the water is heating remove the stem and seeds from the smoked serrano peppers. Once the water comes up to a boil turn the heat off and add the peppers. Let the water cool to room temperature and strain the water through a fine mesh strainer. Pour into ice cube molds and freeze.
Place the margarita salt, ancho chile powder, sugar and lime zest on a small shallow plate and stir until evenly combined.
Place the grapefruit juice, lime juice, agave syrup, triple sec, tequila and a handful of smoked serrano ice cubes in a cocktail shaker and shake well.
To assemble your drink rub the rim of your cocktail glass with a wedge of lime. Dip the edge into the salt mixture and pour the shaken margarita mixture into the glass. Serve and enjoy!
Notes
A quick tip: to avoid having a mess on your counter and a salt lick at the bottom of your glass: when you are rimming your cocktail glasses I dip the wet rim into the salt or sugar mixture and then hold the glass right over the plate while lightly tapping the bottom of the glass. This removes any excess pieces that aren't fully stuck on!