Lemon-Basil Watermelon Cocktail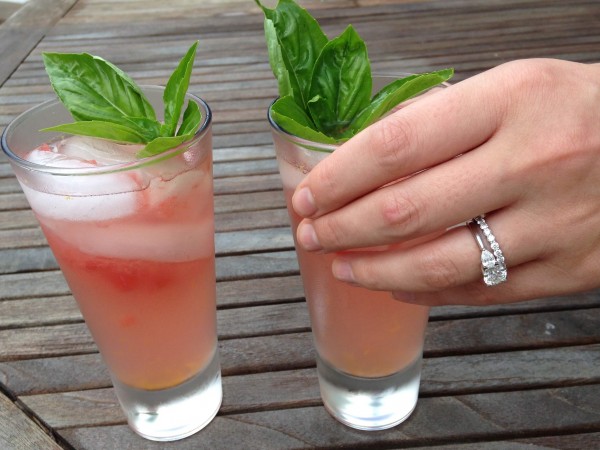 Fresh lemon, basil and watermelon come together to make a beautiful and refreshing cocktail.
Ingredients
1/4 cup chopped, seeded watermelon
ice cubes
2 shots premium vodka
4 Tablespoons lemon-basil simple syrup (recipe below)
1 liter sparkling water or club soda
Fresh basil sprigs
For the lemon-basil simple syrup,
1 cup water
1 cup sugar
12 fresh basil leaves
1 teaspoon grated lemon zest
1/4 cup fresh lemon juice
Instructions
Prepare the lemon basil simple syrup. Stir water and sugar in small saucepan over medium heat until sugar dissolves. Remove pan from heat. Add basil and lemon zest. Cover and cool. Once cooled, stir in lemon juice, then strain. Syrup keeps about 1 week in the fridge.
Divide watermelon among two tall glasses; muddle the melon. Fill the glasses with ice. Add 1 shot of vodka to each glass, if desired. Add two tablespoons of lemon-basil simple syrup to each glass. Top off with sparkling water or club soda; stir. Garnish with basil and sip!
Notes
*Simple syrup can be made ahead and stored in refrigerator
*For the vodka, I prefer Grey Goose or Ketel 1