Mann's Confetti Broccoli Slaw Mac Salad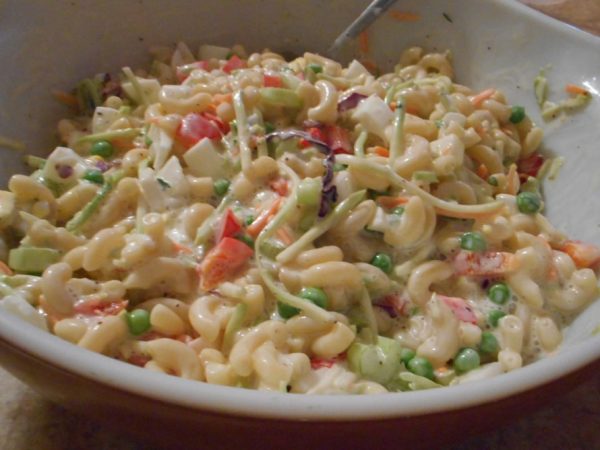 This is a sweet and tangy combination of slaw and macaroni salad has the added goodness of Mann's Broccoli Slaw.  The finished dish is colorful, creamy and crunchy ….. a refreshing twist on the traditional summer salads.
Ingredients
1 1/2 cup mayonnaise
6 tablespoons sugar
3 tablespoons apple cider vinegar
3 tablespoons fresh squeezed lemon juice
1/2 teaspoon celery seed
(or use 1 1/2 cups prepared cole slaw dressing (from a refrigerated 25 ounce jar)
8 ounces elbow macaroni, cooked al dente as directed on package, drained
1/2 cup frozen peas, thawed
2 cups Mann's Broccoli Slaw
1/2 cup diced red bell pepper
1/2 cup diced sweet onion
2 stalks celery, sliced
3 hard cooked eggs, roughly chopped
1/2 teaspoon salt
1/2 teaspoon fresh ground black pepper
Instructions
In a medium size bowl, combine the mayonnaise, sugar, vinegar, lemon juice and celery seed. Mix well and set aside.
In a large bowl, place the cooked macaroni, peas, Mann's Broccoli Slaw, red pepper, onion, celery, hard cooked eggs, salt and pepper. Toss to combine ingredients.
Pour dressing over all and toss to coat.
Cover and refrigerate at least 2 hours.
Notes
A refreshing alternative to traditional coleslaw and macaroni salad. Adding Mann's Broccoli Slaw to the salad gives it a nice crunch and adds color to the dish.