Electric Screwdriver Recipe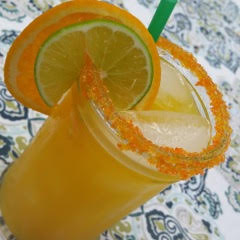 Brighten up your next brunch with this electric screwdriver recipe!
Ingredients
2 ounces fresh orange juice
1-1/2 ounce white rum
1/2 ounce orangecello
1 teaspoon fresh lime juice
3 dashes blood orange bitters
orange sugar crystals, to rim
Whole orange slice , garnish
Whole lime slice, to garnish
Instructions
Rim a glass with lime and crush into orange sugar crystals. Refrigerate for 10 minutes.
Fill a cocktail shaker half way with ice. Pour in orange juice, rum, orangecello and lime juice. Shake until well blended, then transfer to the prepared glass. Top cocktail with a few dashes of blood orange bitters and garnish with whole orange and lime slices.