Smokehouse Cranberry Broccoli Slaw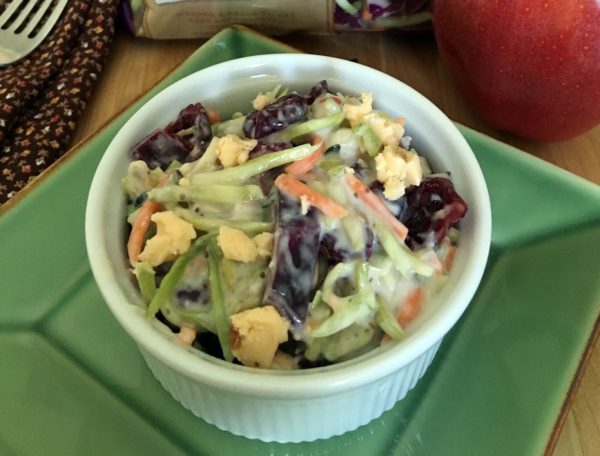 This Smokehouse Cranberry Slaw is full of flavor and crunch, reminiscent of a visit to New England in the fall.
Ingredients
1 (12 oz) bag Mann's Broccoli Cole Slaw
2 green onions, thinly sliced
2 tablespoons sugar
1-teaspoon kosher salt
½ teaspoon celery seed
¼ teaspoon ground black peppe
½ cup mayonnaise
2 tablespoons real maple syrup
2 tablespoons apple cider vinegar
1 cup shredded smoked cheddar or gouda cheese
4 slices cooked and crumbled apple wood smoked bacon
½ cup dried sweetened cranberries
½ cup diced crisp apple
Instructions
In large bowl, toss broccoli slaw, green onions, sugar, salt, celery seed and pepper; let stand 15 minutes.
In small bowl, whisk mayonnaise, maple syrup and vinegar until blended; add to slaw mixture and toss well to coat.
Stir in cheese, bacon, cranberries and apple.