Snappy Broccoli Cole Slaw with Strawberries, Almonds, and Basil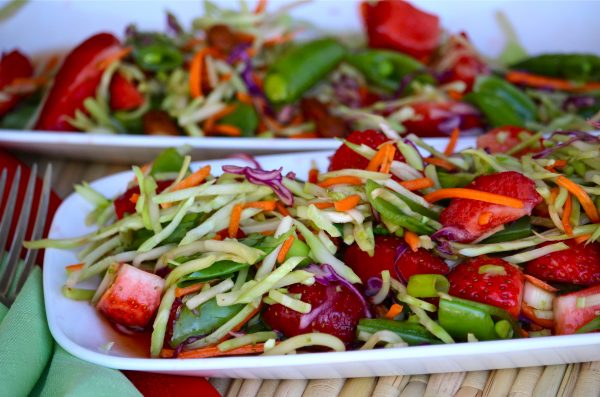 TOSS Broccoli Cole Slaw, sugar snap peas, almonds, green onions, strawberries and basil in a sweet and spicy Maple Lime Sriracha Vinaigrette, and you have a quick, vibrant, and tasty broccoli cole slaw that will wow your friends and guests! Deliciously Healthy, Creatively Crafted!
Ingredients
Maple Lime Sriracha Vinaigrette
1/3 cup maple syrup
2 teaspoons lime zest
1/4 cup fresh limejuice
1 tablespoon avocado oil or salad oil of choice
1 teaspoon sriracha sauce
1 teaspoon tamari sauce
4 cups Mann's Broccoli Cole Slaw®
1 cup 3 cups Mann's Sugar Snap Peas®, cut bite size
1/3 cup less salt roasted almonds, chopped
1 green onion, chopped
1/3 cup loose pack basil, chiffonade plus small leaves for garnish
pink sea salt and fresh ground black pepper
1 1/2 cup strawberries, sliced
Instructions
VINAIGRETTE: In large salad bowl, whisk maple syrup, lime zest, limejuice, olive oil, sriracha and tamari.
COLE SLAW: Top vinaigrette with Broccoli Cole Slaw, snap peas, almonds, green onion, and basil; gently toss. Add salt and pepper to taste. Fold in strawberries and garnish with basil leaves. Serve immediately, or refrigerate for up to 30 minutes.
Notes
Variation: Make this salad into a main dish by adding seasoned sautéed Shrimp!