Spicy Turkey Mini Wraps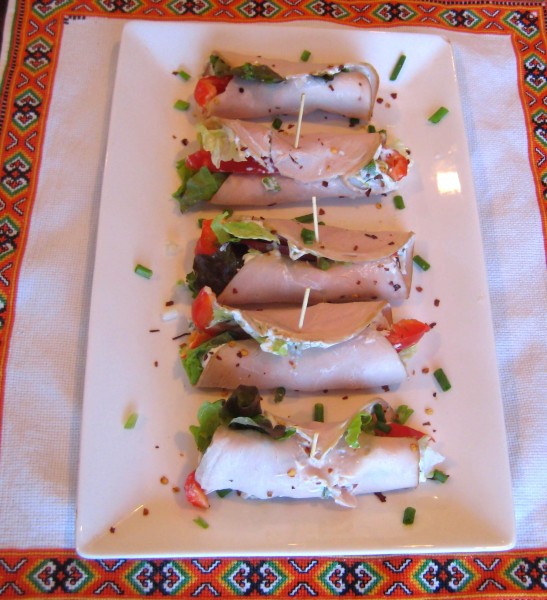 These mini-wraps, combining herbs, spices, vegetables and lean protein, make a healthy pick-me up for in-between meals, or after school noshing. Since they can be prepared in advance, they are an easy, crowd-pleasing party appetizer.
Ingredients
7 ounces garlic & herb (fat-free or reduced fat) cheese spread
1/3 cup finely chopped scallions or chives , + for garnish
1 teaspoon sriracha sauce or 1/2 teaspoon Cajun spice blend, adjust to desired heat
½ teaspoon red pepper flakes (adjust to desired heat)
¼ teaspoon sea salt
12 slices roasted turkey
12 slices red lettuce, ribs removed
2 medium red peppers, julienned sliced
Instructions
In a medium bowl, mix cheese spread, scallions, sriracha or Cajun spice blend, red pepper flakes, and salt, until well combined.
Spread about 2 teaspoons of mixture on one side of each turkey slice.
Top with 1 piece of red lettuce, then with 3 pieces of red pepper julienned wedges.
Roll each turkey slice, jelly-roll style, and secure with toothpick.
Arrange on serving plate. Garnish with a sprinkling of red peppers and scallions. Cover with plastic wrap and refrigerate until ready to use.
Notes
The wraps can be cut in half for baby wraps. Also, substitute other meat for the turkey, such as ham, roast beef, etc.