Sunrise Orange and Broccoli Coffee Cake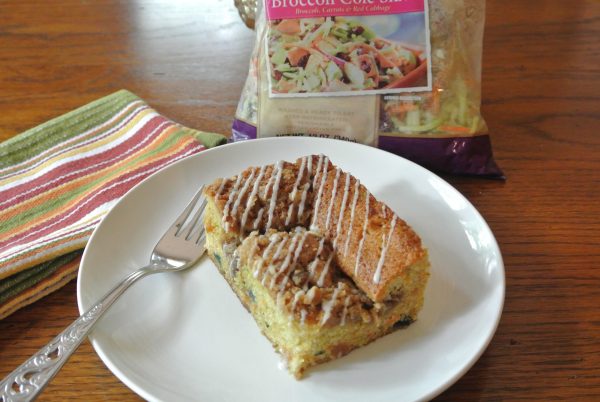 This Sunrise Orange Coffee Cake is full of surprises to start your day, Mann's Broccoli Cole Slaw makes a healthy, tasty and textural addition.
Ingredients
1 cup all-purpose flour
1/2 cup whole-wheat flour
1 teaspoon baking powder
1 teaspoon baking soda
1/4 teaspoon salt
1/2 cup unsalted butter, softened
1 cup sugar
1 tablespoon orange zest
1/2 teaspoon orange extract
2 large eggs
1 1/2 cup Mann's broccoli cole slaw
1/4 cup dried apricots, finely chopped
1/3 cup whole milk
1/4 cupunsalted butter, cold
1/2 cup brown sugar, not packed
1/4 cup old fashioned oats
1/4 cup all purpose flour
1 1/2 cup powdered sugar
2 tablespoons fresh squeezed orange juice
1 tablespoon whole milk
Instructions
Pre-heat oven to 350. Butter a 9 inch square baking pan, line with waxed paper and butter the paper.
To prepare the cake, mix both flours, baking powder, baking soda and salt in a medium bowl.
In a larger bowl beat the butter, sugar, orange zest and extract with an electric mixer at medium speed until creamy.
Add the eggs, one at a time, beating until just blended after each addition.
With mixer at low speed, beat in Mann's Broccoli slaw, apricots and dry ingredients, alternating with the milk. Spoon the batter into the pan.
In a medium bowl combine the crumble ingredients. Sprinkle these on top of the cake.
Bake at 350 for 45 minutes or until toothpick inserted in center comes out clean. Cool the cake in the pan for 10 minutes.
Turn onto a board and remove the wax paper then using a cooling rack invert to topside up. Cool completely.
Combine the icing ingredients in a small bowl until smooth and place in a pastry bag or a plastic lunch bag and cut a small hole and drizzle onto cooled cake.