Three Meat Chili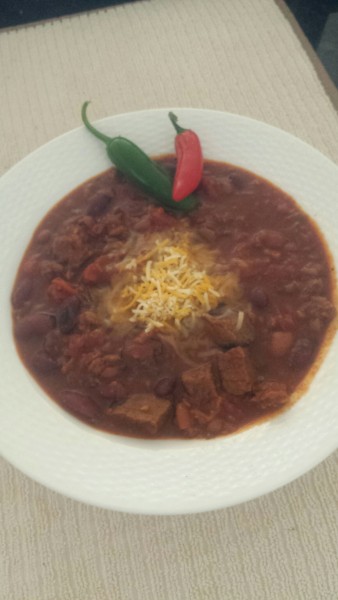 This chili has been a favorite of my friends. I love chili and developed this using peppers and onions from my garden.
Ingredients
2 lb tri-tip
12 oz hot italian ground sausage
9 oz beef chorizo
1 Cup chopped onion
1 Cup chopped bell pepper
1 Tbls olive oil
1 Tbls cumin
1 Tbls chili powder
Salt and pepper to taste
2-15 oz cans diced tomatoes
2-15 oz cans kidney beans
1- 15 oz can chili beans
Instructions
BBQ tri-tip with garlic salt, pepper, and parsley rub. BBQ until medium rare. Chop into bite-sized pieces. Saute pepper and onion in olive oil. Add chorizo and sausage until cooked. Add tri-tip Add all other ingredients. Simmer for 3-4 hours or until tri-tip is tender. Serve with diced jalapenos, cheese, and cilantro.