Competition-Style Texas Chili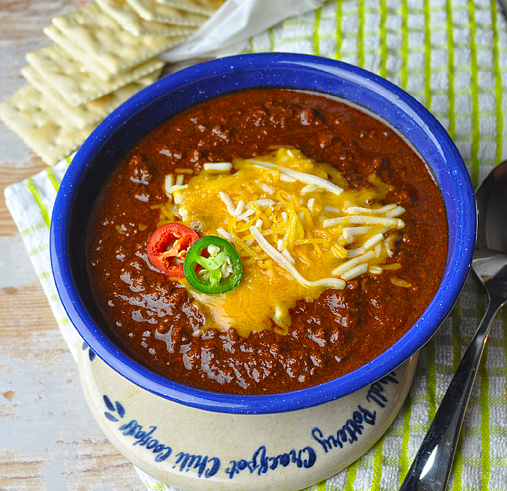 I grew up eating … chili. On those nights I could count on a pot of relatively thin chile-infused soup with ground beef and chopped onions. It was good — I have fond memories of eating it over a bowl of elbow macaroni. Still, as I've grown older, I prefer a version that better sticks to my ribs.
The following recipe is CASI (Chili Appreciation Society International) style, with a more intense aroma and flavor than what you'd normally find in a bowl of red. The main difference is that contest cooks tend to use cubed meat. My version uses the ground version.
Ingredients
1 each – 12 oz & 6 oz can, tomato paste
3 lbs – Beef chuck, coarsely ground
2 qts – Beef stock
1/2 cup – Chili powder
2 – Dried Ancho chiles, stemmed and torn into 3-4 pieces
1 – Chipotle chile en adobo, roughly chopped
1 – Large onion, diced
3 – Garlic cloves, minced
2 TB – Cumin powder
1 TB – Oregano, preferably Mexican Oregano
1-3 tsp – Cayenne pepper, depending on your heat preference
2 tsp - Salt, plus more to taste when serving
Instructions
In a large Dutch oven or stock pot, combine beef stock and tomato paste; mix in next 8 ingredients; then add (raw) beef. Stir lightly to combine.
Cover, bring heat to medium, stirring occasionally. After about an hour, the pot should come to a light simmer. Once there is slight bubbling, turn off the heat and allow to cool. Refrigerate overnight.
The following day (or even 2-3 days later), skim congealed fat from cold chili; then cover and place over low heat. Once it has warmed to room temperature and liquefied somewhat (about 30 minutes), remove the lid and raise heat to medium, stirring occasionally. (The consistency should still be slightly soupy. If not, add another cup of beef stock.) Simmer uncovered for about 1½ hours, until chili has reduced and thickened slightly. Season to taste with additional salt, if desired.
Notes
Add-ins:

Sharp Cheddar, shredded
Queso Quesadilla or Mozzarella (mild white cheese), shredded
Chopped fresh Cilantro
Sliced Jalapeno peppers
Hominy
Beans (Pinto)
Saltine crackers
Corn/Tortilla chips
Elbow macaroni
Rice