Simply Wholesome Foods Applesauce Recipe Contest
*** Thank you so much to everyone who participated in the Simply Wholesome Foods Applesauce Recipe Contest. The winners have been selected and the contest is now closed.
To learn more about exciting cooking and recipe contests, learn more and become a member today!
---
Learn about a new product line, receive some tasty samples, and win up to $1,000! What creative recipes can you come up with using Simply Wholesome Foods Applesauce?
Darvin Martin from Simply Wholesome Foods recently reached out to us because he wanted to run a recipe contest to kick off his new line of applesauce.
There are some great cash prizes up for grabs…
Grand Prize-$1,000
Second Prize – $500
Third prize – $250
…and Darvin will even send you a case of applesauce for you to create your entry!
Read all about the contest below and then be sure to email Darvin right away at darvin@simplywholesomefoods.net to receive the product and get the ball rolling!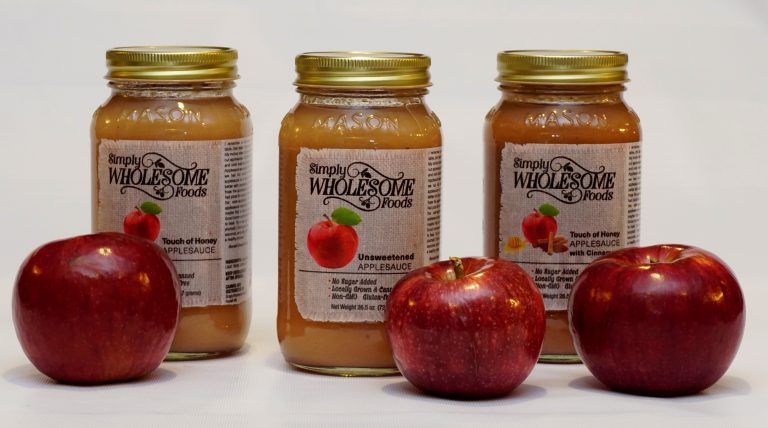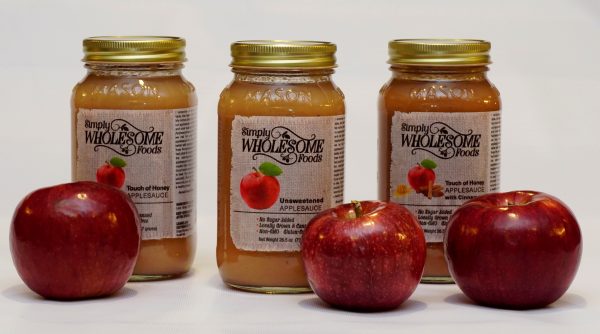 Contest Overview:
Here at Simply Wholesome Foods we have developed three great-tasting applesauce selections. Not only is applesauce a great side-dish for nearly every meal, it also is an excellent ingredient for a huge number of home-cooked foods! Applesauce is used in baking delicious pastries (cookies, muffins, cakes, etc) or cooking savory foods (meatloaf, vegetable soup, etc) or even blending up a smoothie! In fact, applesauce is a great substitute for oil (in baking) and even a replacement for eggs or sugar!
Get your Free Applesauce!
Simply Wholesome Foods will ship to you a free case of 6 jars of applesauce from which you can develop recipes. This will include 2 jars of each of the 3 flavors (unsweetened, touch of honey, and cinnamon).
Entrant must request them via email to darvin@simplywholesomefoods.net
***By requesting a case of applesauce, entrant is agreeing to submit at least one recipe in accordance to the terms and conditions below, and also understands that shipping and handling will take nearly a week. Limit one case per entrant.
The contestant has no obligation to return unused applesauce – any remaining product is left to the enjoyment of the contestant!
Deadline: March 31, 2018
(Deadline to request product is February 7, 2018)
Description: Submit an original recipe featuring Simply Wholesome Applesauce as an ingredient. A mixed case of applesauce will be provided to each contestant (two jars each of our 3 flavors). Please email us to request the case of applesauce: darvin@simplywholesomefoods.net
The recipe must be simple, and must take no more than 60 minutes to prepare (not including any final cooling time).
Submit a photo of the prepared item and catchy name for the recipe.
Prizes:
Grand Prize-$1,000
Second Prize – $500
Third prize – $250
How to Enter:
Entries must be submitted no later than March 31, 2018.
Entries must be sent via email to Darvin Martin at darvin@simplywholesomefoods.net
Entries must include the recipe, a photo of the prepared dish, and the entrant's name, mailing address, and phone number. Entries that do not include all of these components may or may not be included in the contest, at the sole discretion of Simply Wholesome Foods. We at Simply Wholesome Foods, will attempt an email acknowledgement to each entrant, but will not be responsible for lost or late submissions.
Judging:
The taste of the dish, the simplicity of the recipe, the attractiveness of the photo(s), and even the recipe name will all be evaluated in the judgment of winners.
Entries will be judged by representatives of Simply Wholesome Foods. All the judges' decisions will be final. Winners will be notified and prizes mailed by April 30, 2018. Any prizes not claimed (by cashing the prize check) by May 31, 2018 will be forfeited back to the company and will not be awarded to any other entrant.
Eligibility:
To qualify, a Simply Wholesome Foods applesauce must be included in the ingredient list of your original recipe. Contestant can use any of the three flavors we provide, but must specify which one you used. The contest is open to legal residents of the 48 contiguous United States except those residing in a location where it is taxed or prohibited. All ages may enter.
Originality:
Each entry must be the original creation of the contestant and not previously published. Entrant grants to Simply Wholesome Foods, LLC all rights to the recipe including the right to publish the recipe and any submitted photos in any manner at any time. Simply Wholesome Foods, LLC reserves the right to edit, adapt, copyright and publish any or all entries and may use these entries in any media without further attribution or compensation to the entrant or anybody else. All entries submitted become the property of Simply Wholesome Foods, LLC. Entries will not be acknowledge or returned.
Statement of Entrant:
By submitting a recipe, the entrant states that he/she meets all the terms and conditions stated herein, including but not limited to the terms of eligibility and originality.