CCC Sweeps the Today Show!
Did everyone see the Today Show this morning!  It was a Cooking Contest Central sweep in their the "Joy-ful Cook-Off" featuring healthy one-pot meals.
Congratulations to CCC members Jackie Dodd, Tina Zaccardi, and Margee Berry on their outstanding and creative recipes!  Take a look at the segment here:
Visit NBCNews.com for breaking news, world news, and news about the economy
Round of applause to Jackie Dodd for bringing home the gold!  All three recipes look so amazing, I can't wait to make these healthy meals!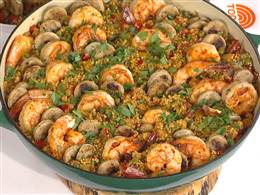 Paprika Shrimp and Sausage Quinoa Paella
Winner of the Today Show "Joy-ful Cook-Off!"
Ingredients
12 large shrimp, peeled and devined
¼ tsp sweet paprika
¼ tsp smoked paprika, plus 1Ž4 tsp, divided
¼ tsp onion powder
2 tbsp olive oil
8 ounces pre-cooked low fat chicken sausage, sliced
½ cup diced onion
1 large red bell pepper, chopped
1 large yellow bell pepper, chopped
3 cloves garlic, minced
1 large beefsteak tomato, chopped (about 1 cup)
1 tbsp tomato paste
Pinch saffron (about 10 threads)
½ tsp salt
½ tsp pepper
1¾ cups low-sodium chicken broth
½ cup peas (frozen is fine)
1 cup quinoa, rinsed and drained
¼ cup flat leaf parsly, chopped
Instructions
Place shrimp in a small bowl, sprinkle with ¼ tsp. sweet paprika, ¼ tsp. smoked paprika and ¼ tsp. onion powder, toss to coat.
Heat olive oil in a 12-inch stainless steel skillet (with a lid) over medium-high heat, cook shrimp until seared, about 3 minutes per side (don't over cook). Remove from pan, set aside.
Add chicken sausage, cook until browned, remove from pan, set aside.
Add the onion and bell peppers, cook, stirring frequently, until onions and peppers have softened, about 6 to 8 minutes.
Add garlic, tomatoes and tomato paste, stir until combined.
Add saffron, remaining ¼ tsp. smoked paprika, salt, pepper, chicken broth and peas, and bring to a simmer. Add quinoa, stir and evenly distribute quinoa. Add the lid to the pan at a vent, adjust heat to maintain a simmer. Cook without stirring for 15 to 17 minutes, or until the quinoa is cooked through.
Place the shrimp and sausage on top, replace lid and cook for 1 minute or until shrimp and sausage is warmed.
Sprinkle with parsley just prior to serving.
Thai-inspired Chicken and Couscous
Ingredients
For peanut sauce:
¼ cup of creamy peanut butter
2 tablespoons of rice wine vinegar
2 tablespoons of brown sugar
2 tablespoon of reduced-sodium soy sauce
½ teaspoon of salt
¼ teaspoon of red pepper Ffakes
2 teaspoons of olive oil
For chicken:
2 teaspoons plus 1 tablespoon of olive oil
½ cup of carrots cut into ¼ inch dice
½ cup of onions cut into ¼ inch dice
½ cup of red pepper cut into ¼ inch dice
1 pound of boneless skinless chicken breast cut into ½ inch dice
1 cup of couscous
1¼ cups of water
½ cup of frozen edamame thawed
2 tablespoons of chopped fresh cilantro
¼ cup of chopped peanut
2 tablespoons of finely-chopped scallions
Instructions
For peanut sauce:
In a bowl combine all ingredients for peanut sauce and set aside.
For chicken:
Put the 2 teaspoons of olive oil in a heavy bottomed pot. Sauté the carrots, onions and red pepper on medium heat for 5 minutes. Add the additional tablespoon of olive oil and increase the temperature to medium high. Add the chicken and sauté until cooked through. When the chicken is done, add the couscous, edamame, previously prepared peanut sauce and water. Mix all ingredients together, turn heat to high and bring to boil. Cover the pot and remove from heat and let it sit for 5 minutes.
After the 5 minutes mix in chopped peanuts and sprinkle with scallions.
Provencal-Style Fish Bake
Ingredients
⅓ cup chopped parsley(plus 2 tablespoons for garnish)
2 teaspoons herbes de Provence
3 tablespoons lemon juice
1 tablespoon extra virgin olive oil
1-1/2 pounds(1-inch thick) firm white fish fillets, such as halibut or Pacific cod, patted dry
1 (14 ounce) can low-sodium fire roasted diced tomatoes, drained
1 tablespoon low-sodium tomato paste
2 teaspoons minced garlic
½ teaspoon fresh cracked black pepper
2 medium yellow onions, sliced ¼ inch thick and rings separated
1 cup trimmed fennel bulb, thinly sliced
1 cup small canned white beans, rinsed and drained
1 small lemon, sliced thin
¼ cup drained sliced pimento stuffed green olives
Instructions
Preheat oven to 375 degrees. Place ⅓ cup parsley, herbes de Provence, lemon juice and olive oil in a zip top plastic gallon bag. Gently shake to blend. Add fish fillets to bag, seal and place in refrigerator to marinade while preparing the rest of the recipe.
In a medium bowl, mix together the diced tomatoes, tomato paste, garlic and pepper. Spray a 2 quart casserole dish or 11x9x2 inch baking dish with non-stick olive oil flavored cooking spray. Line bottom of baking dish with onion and fennel; spoon tomato mixture on top. Cover dish with foil, bake in center of oven until onion and fennel are just tender, about 20 to 25 minutes.
Remove foil from dish and stir in beans. Remove fish from bag, discard marinade, then lay fish fillets on top of tomato mixture. Next lay lemon slices on top of fish. Sprinkle olives all over, cover dish with foil and bake an additional 10 to 12 minutes or until fish flakes easily when tested with a fork. Garnish with remaining 2 tablespoons parsley and serve. Prep and cook time 45 minutes.

We are all so proud of you ladies!  You and your recipes looked so beautiful on TV!