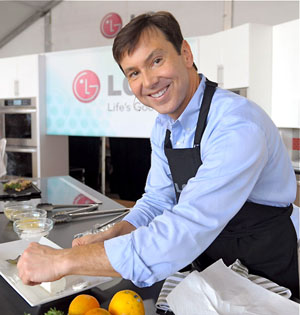 About 14 years ago, when CCC began listing cooking competitions and way before the word "friend" took on an entirely different meaning, we stated in our mission statement, that part of our purpose was to afford cooking contest enthusiasts a place not only to find out about contests but become friends. We are happy and proud to say that we have succeeded.
Whether he has met them personally or only through our web pages, an overwhelming number of CCC members consider Brett their friend. He is always unfailingly encouraging. He shares his knowledge, advice and considerable expertise freely, not only to old timers who know him well but to newcomers as well.
Brett exemplifies what a real CCC friend is. We are proud of him and proud to nominate him as this years inductee into the Cooking Contest Hall of Fame.
We also might add that his long list of wins is pretty impressive too.
A little about me…
I grew up in beautiful South Carolina. I attended the University of South Carolina where I earned a Bachelor's Degree. I loved college so much that I stayed for 2 more years and earned a Master's Degree in Education. After briefly working at Texas A & M University with a freshman orientation program, I fell into the airline industry and have been flying the friendly skies ever since. A lot has changed since I started in 1989, but I still love my job! The autonomy and flexibility of my schedule as well as the ability to travel all over the world has kept me interested all these years. One of my favorite things to do while traveling is to check out restaurant menus, local fare, and food trends–the free time that I don't have while I'm at home gives me the time to explore and idea shop! I live in Berks County, Pennsylvania and spend my free time gardening and renovating.
Who or what is your inspiration?
One of my earliest memories of cooking is with my grandmother. I remember her sitting me up on the counter as I watched her carefully measuring and creating one of her famously delicious cakes. She let me "help" by stirring and, of course, licking the bowl. Those fond memories and a childhood filled with Southern food gave me the love of creating and cooking. My passion, however, is gardening and I derive a lot of inspiration from it. I love growing, preparing, and eating the things I've grown there–it makes me feel more connected to the food I eat and makes me want to become a better cook.
What is your philosophy of cooking?
Fresh is best. I try to eat seasonally and, from my garden, prepare fresh, can, dehydrate, or freeze to enjoy when "fresh" isn't possible. I tend to gravitate toward flavor-forward, simple dishes. I guess I subscribe to the "KISS" theory: Keep It Simple, Stupid!
What got you interested?
The very first prize I won was a kitchen makeover with "House Beautiful" magazine and was absolutely stunned because I never thought that regular, everyday people actually won those contests! After that, I was hooked on contesting! I had just begun a renovation of an 1870's Victorian and saw the advertisement in the magazine. That contest required photographs of my awful kitchen and an accompanying essay on why I needed the makeover. I had all but forgotten about entering, and then one day I received a call from Hearst Publishing, parent company of "House Beautiful" magazine informing me that I had won the Grand Prize! It was a kitchen and dining room remodel and this one wasn't just appliances, it was a complete gutting and remodeling of the kitchen and dining room and valued at $100,000! I couldn't believe my luck and it came at a great time since the renovation had just begun. The project was completed in 2006 and the article appeared in the February, 2007 issue of the magazine.
Next, in October, 2008, a bathroom renovation that we had recently completed won top honors in a remodeling contest and a $2500 prize and a 3 page photo spread in Better Homes and Gardens" magazine. The streak continued with my pantry being featured in "This Old House" magazine (June, 2008) and most recently, the craft/studio room was highlighted in "Better Homes and Gardens" magazine (June, 2010) with accompanying cash prizes.
How did you get started in cooking contests?
I've always loved to add my own spin on recipes. So with a major renovation underway, a wonderfully functional dream kitchen, and lots of "free time in my mind" while sanding, plastering, sanding–I started to dream up recipes for the 43rd Pillsbury Bake-Off Contest. It seemed so easy, but as I look back on those first recipes I submitted, it's easy to see why they were not chosen for the contest–they were awful! Rejected by the doughboy, I was more determined than ever to make it to the contest. I started to eat, sleep, and dream recipes–I couldn't walk through the grocery store or look at a magazine without thinking of a way to create something new with a Pillsbury product. Months later, when I received a call informing me that I would be a finalist in the 44th Pillsbury Bake-Off Contest, I was both elated and petrified at the same time! That first experience was amazing and I didn't take one moment for granted. In the months since I attended that very first contest, I have learned a lot, been amazed at the level of support that I've received from some of the most wonderful people here at CCC–some of whom I've never met (yet!), and looking forward to whatever adventure this wonderful hobby has in store for me!
Contest Wins:
• "House Beautiful" magazine, Grand Prize Winner in the "Make Beautiful" Makeover Contest, Kitchen and Dining Room makeover valued at $100,000, February, 2007
• "This Old House" magazine, Winner in One-Room Wonders category, "Reader Remodel Contest," June,2008
• "Better Homes and Gardens" magazine, Winner in Bath category, "Home Improvement Challenge Contest," $2500, October, 2008
• "Better Homes and Gardens" magazine, 3rd Place in Organization category, "Home Improvement Challenge Contest," $500, June, 2010 featured in "I Did It"
• Pennsylvania Horticultural Society Photo Contest, Third Place, membership subscription and tickets to the Philadelphia International Flower Show
• 44th Pillsbury Bake-Off Contest finalist, Orlando, Florida, Finalist, "Asian-Spiced Cashew Chicken Piadinis"
Pillsbury Monthly Challenge Contest, pie category Finalist, "Easy One Skillet Chicken Pot Pie"
• Mix it Up with Betty Cookie Mix Contest, Honorable Mention, $100 gift card, "Mochachino Dessert Bars with White Chocolate Drizzle"
• Sur La Table Grilling Recipe Contest, Runner-Up Grilled Desserts, $250 gift card, "Rustic Dessert Pizzettes with Strawberries & Pignoli"
• Beringer Great Steak Challenge, Finalist, Washington, DC, $1000, "Honey Kissed Flat Iron Steak with Grilled Pineapple and Watercress Salad"
• National Oyster Cook-Off, finalist, St. Mary's County, Maryland, $150, "Rustic Seaside Oyster, Heirloom Tomato, and Goat Cheese Tart"
• Aetna Healthy Food Fight, Finalist, Philadelphia, Pennsylvania, "Asian Market Salad with Quinoa, Watercress, Roasted Mushrooms and Pineapple"
• LG/Food and Wine "Life Tastes Good" Championship in Beverly Hills, California, Grand Prize Winner, suite of appliances valued over $12,000 and trip to Seoul, Korea to represent the United States in the Global Championship, "Orange Scented Lamb Skewers with Watercress & Roasted Fig Salad and Baked Goat Cheese Crisps"
• LG "Life Tastes Good" Global Challenge, Seoul, Korea, "Infinite Taste of Seoul" Award, set of fine Korean bone china, "Orange Scented Lamb Skewers with Watercress & Roasted Fig Salad and Baked Goat Cheese Crisps"
• "Organic Gardening" magazine "Holiday Recipe Contest," 1st place, set of Wustof Ikon knives valued at
$750 and feature in the December2010/January 2011 "Organic Gardening" magazine, "Rosemary Kissed Cornmeal Shortcakes with Balsamic Strawberries & Heavenly Honey Cream"