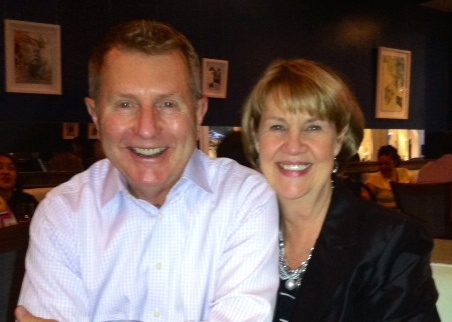 Janice's Story
Rather than a detailed listing of wins (which I actually haven't kept, so this is definitely not all inclusive), I'd rather focus on the life-enhancing aspects of my recipe contesting career over the years. It took root when I was a young bride, happy to be making meals for my husband. I saw a flyer in the supermarket about a chicken contest, devised a dish and sent it off…then promptly forgot about it. A few months later I received a call advising that I was the state winner and would be going to the national event in Birmingham, Alabama. I'm reasonably sure that there were not that many entries from my state that year, as the dish incorporated canned bing cherries and port wine with the chicken, resulting in a most unappetizing appearance (keep in mind that this was the early '70s).  Off I went to the event (where I'm reasonably sure I came in last), but I met so many lovely people who actually knew what they were doing and realized that this could be a fun hobby to pursue. Over the years my flavor combinations improved, along with my cooking skills, and recipe contesting became a big part of my life. Along with prizes won, many lasting friendships have been formed, and I treasure those as much as the victories. It also gives Larry and me a great excuse to travel and enjoy new and different cuisines, as well as new restaurants, as we consider this part of our culinary research. We also have many spirited conversations about food combinations, and we love vetting each other's ideas.
Some of my favorite wins have been trips to places I might have never visited, both domestic and foreign. We spent a week in Tokyo as a result of winning a Kikkoman soy sauce contest. We also enjoyed a week in southwestern France staying in a beautiful manor and having cooking lessons, as well as touring the area and drinking beautiful wines and eating amazing meals, both in the manor and at lovely restaurants, the grand prize in a Nestle contest. A trip to Portugal (Porto and Lisbon) was a real treat, and we got the equivalent of a PhD in port, courtesy of the Sandeman Company and Chocolatier magazine. Several cruises to the Caribbean were wonderful experiences, and we loved a trip to Germany courtesy of a sauerkraut contest. And who could forget the week we spent on the Queen Mary, docked in Long Beach, with all expenses paid for anything we charged while on board (and no, we didn't go crazy, but we did have a wonderful time).
My heart was left in San Francisco after my first visit there, competing in the Pillsbury Bake-Off for the first time in 1975.  Also in the memory bank are several trips to the National Chicken Cooking Contest and the Beef Cook-Off. I have placed in both of these – my Beef dish, Oriental Express Beef Lettuce Wraps, was one of the first lettuce wraps I entered and it won a prize of $5000, to be followed by many successful riffs on lettuce wraps over the years. These events were held in lovely locations and included many fun outings to interesting nearby places.  I received the grand prize winning cast iron crown from National Cornbread in 2006, along with a handsome cash prize and range. I have also competed in the Southern Living, Cooking Light, Build A Better Burger, Ocean Spray Cranberry, Bay's English Muffins, IGA and Good Housekeeping cook-off events, and spent a week in Scottsdale at the lovely Princess resort, all expenses paid, after winning grand prize in a Regis & Kelly Live contest, which also included daily cooking lessons with resort chefs. There were numerous trips to Napa and other lovely California locations in various contests such as Fetzer wines, where I won the $5000 grand prize. A marvelous trip to Sonoma and cooking lessons at Ramekins and lovely winery tours were the reward from a Frexinet opportunity. Winning the Grand Prize in the Quaker Oats contest netted $5000 for a simple individual cheesecake, an early 'salted caramel' variation. Another $5000 came my way as the winner of the Better Recipes annual contest, with a simple lemon-blueberry tiramisu trifle. Fine Cooking magazine sponsored a contest where I competed as a regional finalist in Washington, DC, and won there, netting me a trip to the finals in San Francisco. No grand prize win there, but a wonderful time in this special city. A Gold Kist chicken win provided appliances (refrigerator and microwave) when we were building our mountain home years ago, and they are still there, functioning beautifully.  Another delightful contest was the first Dole cook-off where I took home the grand prize, including a marvelous trip to Los Angeles for Larry and me. And we will never forget the week spent at Canyon Ranch in Arizona, being pampered with massages and challenged with hikes, classes and other activities, while enjoying their delicious, low-fat, low-calorie, but incredibly flavor-filled meals in a gorgeous desert environment. The Relish Summer Recipe contest sent us on a beautiful trip to St. Simon's Island, complete with a beautiful resort stay, lovely meals, and an outing on a shrimp boat – a really fun day with the freshest shrimp we had ever eaten, as it was caught, cooked and consumed on the boat. We were also amazed at the other sea creatures that are captured in shrimp nets!
I've won prizes running the gamut from an NFL football to a red Ford Mustang, and appeared on the Oprah show to share my contest winning success. Cash prizes were wonderful, as were the many appliances, cookware and kitchen gadgets, both large and small. I still remember fondly a Pope products win with a seemingly endless supply of their products – olive oil, balsamic vinegar, tomatoes, marinated artichokes, roasted peppers, etc. We shared with friends and food banks.
I'm often asked about the secret to winning contests. I always reply that if I knew, I would win more! Persistence is important, and staying abreast of current trends while keeping things simple seems to help.   Admittedly I do not embrace the voting aspect of many contests nowadays, though I do understand that contests are marketing tools for food companies and it's their choice as to how they run them, as well as my choice as to whether to participate. I am disappointed that some of the really enjoyable events that provided contest enthusiasts an opportunity to meet and compete have been discontinued. I'm happy that I had a chance to be a part of these, and hope that someday they will be resurrected. Go for it – my 'motto' is that if you throw enough spaghetti against the wall, some of it is bound to stick!
Larry's Story
It's not always easy for a man to honestly admit that he has ridden the coattails of a woman who is much better at something than he. In my case, I readily admit that my recipe contesting success can be attributed to my wife, who has continued to inspire me with her enthusiasm and creativity while developing original recipes.
I'm not a conscientious record-keeper of recipe contest wins but there are some that stand out as incredible prizes for me. Realizing a little success early on was all it took to inspire me to continue the quest for additional wins. One of my first memories goes back to the Pillsbury Bake-Off in 1988, where I was content to win the trip to San Diego. I clearly remember TV host, Bob Barker, announcing that I was one of the $2,000 category prize-winners. At that point, I was hooked for life! My two subsequent competitions in the Bake-Off didn't result in a prize but, again, I considered myself a real winner by being chosen as one of the finalists for the contests.
Other memorable contests include competing in the Sutter Home Build a Better Burger Contest that I consider one of the most stressful, yet rewarding, cooking events of my contesting career. Feeling that my recipe was relatively easy to prepare, I was surprised that cooking on charcoal on a windy day and having fluctuating time changes for when my recipe was scheduled for the judges made for a contest-to-remember event. I have never been as surprised to win anything as I was the grand prize of $10,000 that came with that contest!
I was especially proud to be one of five finalists in the Newman's Own contest where $10,000 was donated to a charity of my choice. Having lunch with Paul Newman and his team in the Rainbow Room in New York City was certainly an added bonus!
In 2011 I was chosen to participate in The Great Steak Challenge sponsored by Beringer Wine in Napa Valley. Once again, just being chosen to be part of this wonderful event was a real honor and thrill for me, and being awarded the second prize of $7,500 was certainly icing on the cake!
On a national basis I've competed multiple times in the National Chicken Cooking Contest and the National Beef Contest. Another national contest that stands out for me is the Martha White Cornbread Contest. I was impressed with the excitement that the event brought to the small town of South Pittsburg, Tennessee. The entire population appeared to be involved and demonstrated the best of southern hospitality.
A PREVENTION magazine contest netted the two of us a trip to a spa north of San Francisco for a week, with two daily challenging hikes tempered by daily massages, speakers, and really healthy food. My first shiatsu massage – I'll never forget it!
Winning the grand prize in a Cooking Light contest with my Spicy Apple Glazed Chicken 'n Grits netted a $5000 prize – and a LOT of cheese, which we shared with neighbors and friends.
I have realized a number of wins within regional competitions which are generally a lot of fun for me even though the prizes are not as substantial.
When creating recipes for contests I try to keep things simple and straightforward. I believe that exquisite flavors can be realized by incorporating well-thought-out ingredients. I enjoy having the ability to choose ingredients that combine into bold flavors. Recipe contesting is a discipline that takes thought, time, and creativity. I've always been one who operates best when given a challenge. Having rules to follow almost makes it feel like solving a puzzle or science project. When you do everything correctly, the outcome can be spectacular — but when the mix is not right, it can explode in your face!
The many opportunities that recipe contesting has offered me and my wife have certainly been life-enhancing. We have traveled throughout the United States and numerous foreign countries as a result of winning recipe contests. Each time we travel to a new place we find ourselves intrigued with the food cultures that we are privileged to experience. Our travels generally result in R&D for our "food memory banks" that we may one day draw upon.