Apricot Bourbon Glazed Ham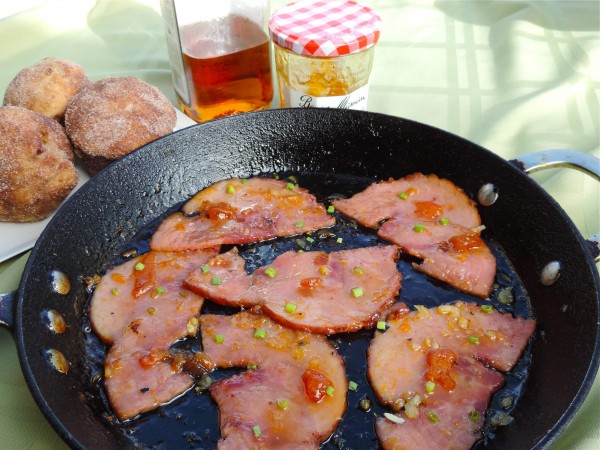 Salty ham smothered in bourbon infused sweet apricot glaze; the concept made my mouth water so off to the kitchen I headed. Apricot Bourbon Glazed Ham Slices takes less than 10 minutes so why not make a double batch?
Ingredients
1 tablespoon garlic olive oil, or cooking oil of choice, divided
1/2 tablespoon minced garlic clove
1/3 cup Bonne Maman Apricot Preserves
2 tablespoons bourbon or apple juice
2 tablespoons fresh orange juice
1 teaspoon finely grated orange zest
6 (1/4-inch thick) ham slices or 3 large ham steaks
1 tablespoon chopped chives
Instructions
In small skillet, heat 1/2 tablespoon oil and garlic, over medium heat 1-2 minutes. Add apricot preserves, bourbon, orange juice, and orange zest. Bring to a boil and simmer until thick and slightly darker, about 3-4 minutes. Set aside.
Heat ½ tablespoon oil in a large skillet until just beginning to smoke. Add ham slices and fry, without moving, 1 minute. Turn ham over, add apricot bourbon glaze, stirring constantly, cook 2-3 minutes. Turn ham over several times to coat in glaze. Adjust heat to medium-low, if needed, to prevent burning. Turn heat off when sauce has adhered to the ham. Transfer ham to a platter and scrape glaze from pan onto the ham. Sprinkle with chives.
Notes
After successfully creating Jalapeño Peach Glazed Breakfast Ham, I began thinking about all of the other Bonne Maman Preserves ham glazes I could create. Apricot Bourbon has always been a favorite combination for many. I quickly whipped up Apricot Bourbon Glazed Ham Slices. This recipe is a little sweeter than the Jalapeño Peach Glazed Breakfast Ham; perfect for timid-jalapeño lovers! I also played with adding ground ancho chili pepper; adds a depth. I tried smoked paprika but I'm not convinced I always love the dominance in smoked paprika. In the end, a simple apricot bourbon glazed was the best way to allow Bonne Maman Apricot Preserves to bow on stage!