Baklava Bars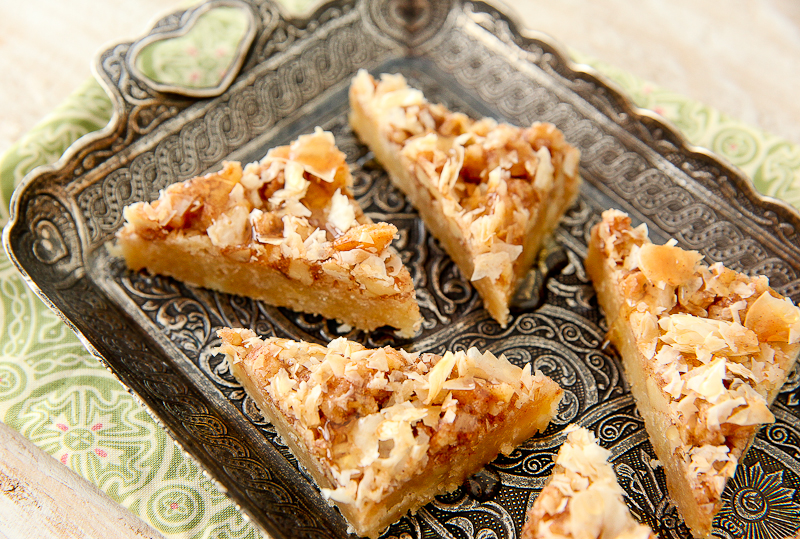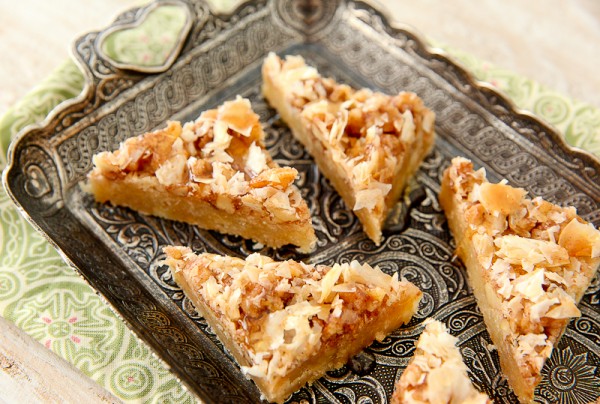 This recipe for Baklava Bars was a finalist in the 2007 Betty Crocker "Mix it Up with Betty" Cookie Contest
Ingredients
1 pouch (1 lb 1.5 oz) Betty Crocker sugar cookie mix
1/2 cup butter or margarine, softened
1/2 teaspoon grated lemon peel
1 egg
1 - 1/2 cups chopped walnuts
1/3 cup granulated sugar
1/4 cup butter or margarine, softened
1 teaspoon ground cinnamon
1/8 teaspoon salt
8 frozen mini fillo shells (from a 2.1 oz package)
1/3 cup honey
2 Tablespoons butter or margarine
1 Tablespoon packed brown sugar
1/2 teaspoon lemon juice
1/4 teaspoon ground cinnamon
1 teaspoon vanilla
Instructions
Heat oven to 350°F. Spray bottom only of 13x9-inch pan with cooking spray.
In large bowl, stir cookie base ingredients until soft dough forms. Press dough in bottom of pan. Bake 15 minutes.
Meanwhile, in medium bowl, stir walnuts, granulated sugar, 1/4 cup butter, 1 teaspoon cinnamon and the salt with fork until mixture is well mixed and crumbly.
Sprinkle nut mixture evenly over partially baked base. With hands, crumble frozen fillo shells evenly over nut mixture. Bake 18 to 20 minutes longer or until golden brown.
Meanwhile, in small microwavable bowl, microwave 1/3 cup honey, 2 tablespoons butter, the brown sugar, lemon juice and 1/4 teaspoon cinnamon uncovered on High 1 minute or until bubbly. Stir in vanilla.
Drizzle honey mixture evenly over fillo. Cool completely, about 2 hours.
For bars, cut into 6 rows by 4 rows. Before serving, drizzle 1/2 teaspoon honey over each bar. Store covered at room temperature.
Notes
Serving Size: 1 Bar Calories 250 ( Calories from Fat130), Total Fat14g (Saturated Fat5g, Trans Fat1g ), Cholesterol25mg Sodium115mg Total Carbohydrate29g (Dietary Fiber0g Sugars21g ), Protein2g ; % Daily Value*: Vitamin A4%; Vitamin C0%; Calcium0%; Iron4%; Exchanges:0 Starch; 0 Fruit; 2 Other Carbohydrate; 0 Skim Milk; 0 Low-Fat Milk; 0 Milk; 0 Vegetable; 0 Very Lean Meat; 0 Lean Meat; 1/2 High-Fat Meat; 2 Fat; Carbohydrate Choices:2 *Percent Daily Values are based on a 2,000 calorie diet.