Bourbon Bacon Brie Dip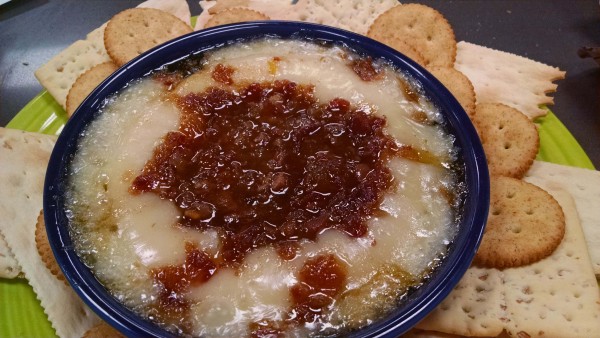 This recipe was developed from combining some of my very favorite flavors! The best dishes always begin with bacon and end with melted cheese. This recipe is easy to put together and makes everyone drool as they taste their first bite.
Ingredients
1 lb. thick sliced peppered bacon
1 small onion, finely diced
6 cloves garlic, finely diced
1/3 cup cider vinegar
1/3 cup brown sugar
1/2 cup bourbon
1/2 teaspoon crushed chili flakes
1/2 cup apricot jam
8 ounce wheel of Brie cheese
Assorted crackers or mini toasts
Instructions
Preheat oven to 375 degrees.
In a large sauce pan, cook the bacon over medium heat until the fat has rendered and the bacon is crispy. Set aside. Drain the grease all but leaving 1 tablespoon in the pan.
Add the onions and sauté until tender, about 5-7 minutes. Add the garlic and sauté until fragrant, about a minute. Add the vinegar and deglaze the pan. Add the brown sugar, bourbon and chili flakes. Simmer until reduced to syrupy consistency. Stir in apricot jam. Set aside.
Cut away the rind from the top side of the wheel of brie. Set wheel in an oven safe bowl or small casserole dish about the size of the cheese. Scoop about 3/4 cup of bacon apricot jam into the middle of the brie.
Bake the brie in the oven for about 10 minutes. Then top with an additional scoop (about 1/4 cup) of bacon jam. Bake for an additional 5 minutes or until cheese is melted and bubbly.
Serve with your favorite crackers or mini toasts.
Notes
Remaining jam can be stored in the refrigerator to be used later. It's delicious on homemade buttermilk biscuits!