Broccoli Slaw Waldorf Salad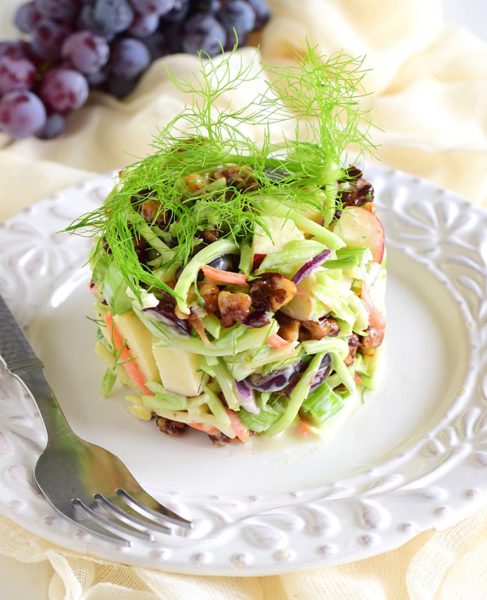 A nutritious re-make of the classic Waldorf salad using crunchy and delicious Mann's Broccoli slaw.  This easy  to make, delightful salad is great for a healthy lunch and also makes a stunning salad course for any get together.
Ingredients
1 twelve ounce bag Mann's Broccoli Slaw
4 fennel stalks (with fronds) chopped
1 Cup black seedless grapes, halved
1 large crisp red apple, diced
1/3 Cup Mayonnaise
3 Tablespoons buttermilk
1/2 teaspoon apple cider vinegar
1 Tablespoon honey
1/2 teaspoon celery salt
1/2 teaspoon sea salt
1/2 teaspoon white pepper
1/2 Cup chopped walnuts
1/4 Cup brown sugar
1 Tablespoon butter
1/2 teaspoon sea salt
Instructions
Start by preparing the candied walnuts. Place the nuts, brown sugar, and butter in a non stick skillet. Cook and stir over medium low heat until the sugar melts and coats the nuts. Place the nuts onto parchment paper and sprinkle with sea salt. Allow them to cool while you prepare the rest of the salad.
Make the dressing by adding all ingredients to a medium sized bowl. Whisk until thoroughly combined and refrigerate until needed.
To assemble the salad, add the Mann's Broccoli Slaw, fennel, grapes, and the apple to a large bowl. Pour in the dressing and mix to combine. Add the cooled walnuts and toss the ingredients together gently.
Pile the salad onto four plates and garnish with a few fennel fronds if desired. For a more sophisticated presentation, place a ring mold onto each plate. Fill it with salad, pressing down as you go. Release the salad from the mold. It will hold its shape well.
Notes
*Note: The salad can be refrigerated for two hours before serving if preferred.