Cheesy Broccoli Bacon Tater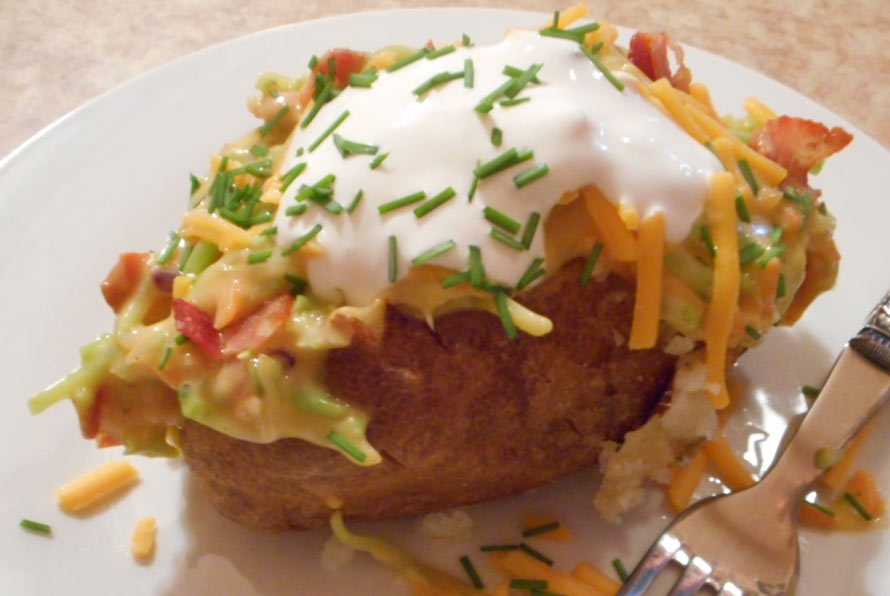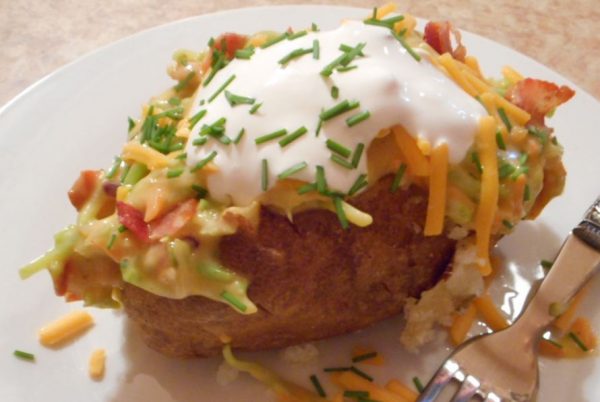 Just like the overloaded stuffed baked potatoes you can get at your local eatery ….. only BETTER!!  Creamy baked potato smothered with a cheesy, bacon-y topping that includes Mann's Broccoli Cole Slaw.  Hot, steamy, cheesy and slightly crunchy from the beautiful shredded vegetables in the slaw.  This is a great way to "sneak" vegetables into your meals for those picky eaters and it's perfect for those cold and damp Autumn days.
Ingredients
8 slices bacon, cooked and crumbled
1 12-ounce bag Mann's Broccoli Cole Slaw
1 10 3/4-ounce can condensed cheddar cheese soup, undiluted
3/4 cup whole milk
t teaspoon dried minced onion
1 1/2 cups shredded sharp cheddar cheese, divided
4 large russett potatoes, baked
snipped fresh chives and sour cream (garnish)
Instructions
Place a 4-quart Dutch oven over medium high heat. Add the bacon and cook until just starting to crisp.
Remove bacon from pot and drain on a paper towel lined plate, reserving the bacon fat in the pot.
Add the Mann's Broccoli Cole Slaw to the same pot and cook, stirring often, for 3-4 minutes. Vegetables should be crisp/tender. Meanwhile, combine the soup, milk, onion, 1 cup of the cheese and the bacon in a medium size bowl. Mix well to combine.
Add to the broccoli mixture and mix well. Cook, stirring often, until heated through and cheese is melted, about 2-3 minutes.
To serve: Place a baked potato, each cut in half (and "fluffed") on a serving dish. Top with broccoli mixture. Garnish with remaining cheese, a dollop of sour cream and chives.
4 servings.
Notes
This recipe serves 4 when used as the main course. It will serve 6-8 as a side using smaller potatoes.