Coconut Cheesecake with Salted Caramel Sauce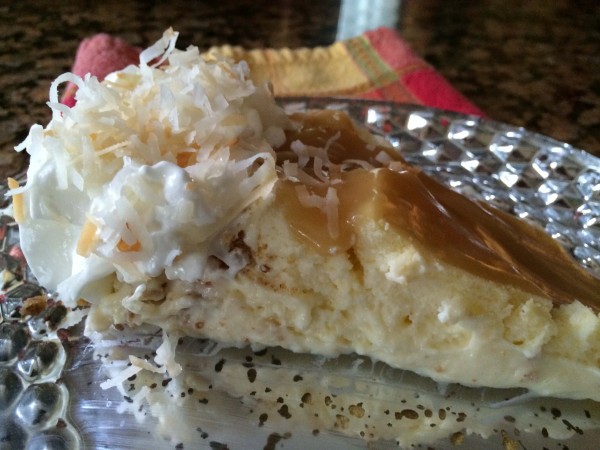 I love anything with salted caramel, but this coconut cheesecake with salted caramel topping is so decadent and crazy good. Everyone will ask for the recipe when you prepare it, which is the ultimate compliment.
Ingredients
1 cup graham cracker crumbs
1 cup ground pecans
1 cup toasted coconut
1 Tablespoon granulated sugar
3 Tablespoons salted butter, melted
1 cup granulated sugar
4 packages (8-ounces each) cream cheese, softened
3 large eggs
1 cup heavy whipping cream
1 teaspoon vanilla extract
1 teaspoon coconut extract
2 Tablespoons fresh lemon juice
1/2 cup granulated white sugar
1/2 cup light brown sugar
6 ounces salted butter, melted
1/2 cup heavy cream
1 Tablespoon vanilla extract
1 Tablespoon flaky sea salt
1 cup toasted coconut for garnish
Instructions
Preheat oven to 325 degrees F. Wrap a 9-inch spring form pan with heavy-duty aluminum foil. Bring 5 cups water to a boil. Mix graham cracker crumbs, ground pecans, toasted coconut, sugar, and melted butter to make crust. Press in the bottom and up 1/3 of the spring form pan. Place in the refrigerator.
Prepare filling: Beat cream cheese and sugar until blended. Add eggs one at a time until well blended. Add whipping cream, vanilla extract, coconut extract and lemon juice. Beat well, scraping down sides to make sure everything is well incorporated. Remove spring form pan from refrigerator and pour in the filling. Place wrapped cheesecake in a large roasting pan and fill with the boiling water. Bake until slightly jiggly, about 1 hour, 45 minutes. Remove from oven and cool about 2 hours on a wire rack. Transfer to the refrigerator and chill 12+ hours.
Meanwhile, make the caramel sauce. In a Medium saucepan over medium low heat, combine all ingredients for the caramel sauce. Bring to a slight boil and cook for about 6-8 minutes stirring or whisking constantly. After cooling slightly, pour into a glass dish and store in the refrigerator until ready to serve.
After cheesecake has cooled, top with caramel sauce, sprinkle with sea salt and garnish with whipped topping and remaining toasted coconut. So crazy delicious!!